Bad examples by pool noodle slaps / Cute Animal Tagging x2
Henry picked me up today, and we were off... no thanks to construction and delays on Alderbridge, we were ten minutes late! Talked about the Newsboys'
Million Pieces (Kissing Your Cares Goodbye)
[heard it on the radio!], Bible Study, a discussion on prayer, the cop love triangles on TVB shows, whether the same costumes were actually what Hong Kong police wear, and more. Got to the fellowship hall and told Auntie Vivian and Chrystal why I was late; also, I wished Melia a happy birthday. A bunch of kids (like Conor's brother Sean) wanted to know what was in the Awana store, Conor wanted to give me a high-five because he had a bunch of sections completed today (he cheers me up!), and Martin was RED because he was laughing so hard over Jordan's bathroom mishap! Apparently, Jordan got stuck for some time - Martin, Chris, Benedict, and Jason went to check it out. After the debriefing, Martin / Mike / Eric T. were setting a bad example for Regan and Jinny by slapping each other with a pool noodle. Auntie Vivian walked by as she was putting things away, and just laughed. Seeing Jessica's mittens reminded me to get my own out when I got home, and I have.
Later, I heard that Ada was sick, so got Henry to give me a ride home. He's the only other one who lives in Richmond, so he did it even if he was a bit rushed since he had to go to his sister Teresa's house to watch the girls as she went to Fellowship. His other sister Janet called to see if he wanted to go out for food - he couldn't do that, and ultimately suggested she order pizza or something if she didn't want to go out herself. (he told Teresa that she sounded flustered!) I was glad to be in out of the rain... my place is colder than the fellowship hall originally was, as it was WARM! Now to eat some Pickled Chinese Cabbage and Fish noodles, and do some Sunday School prep!
Leslie's just got their
Mayan God Name
from Name Generators. It's Ix Chel, the goddess of the moon.
Got these cute animal tagging pictures from Julie C: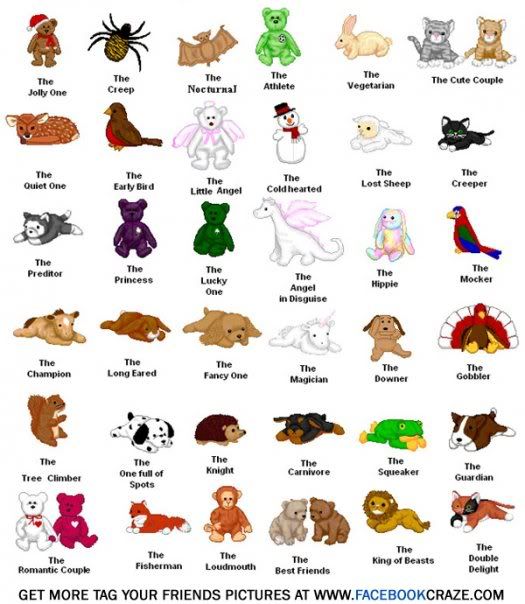 Labels: awana, benedict, church, facebook, friends, generators, henry, jason, julie, martin, maxed-out tags limit, melia, memes, mike k., names, noodles, pictures, songs, tagging, teresa