FINAL FANTASY II ADVANCE Bestiary, #1-169 (DAWN OF SOULS)
LJ equivalent on June 7, 2012.
This is the complete bestiary for the game FINAL FANTASY II: DAWN OF SOULS, and all screenshots are from my own playthrough.
I'd like to say that this GameFAQs document helped me immensely; thank you!
Also,
the maps for this game on Gamer Corner
helped me a lot when trying to find certain monsters, and
this helped me with the Soul of Rebirth
!
Notes to self: Maria keeps missing because she is placed in the BACK ROW by default. (WTF, SquareSoft?) Move her to the front row.
Notes to remember: DO NOT ACTIVATE ANY "99 ITEMS" CODES TILL AFTER PANDAEMONIUM. (Dreadnought and Zombie Borghen) Go to Mysidia as soon as the canoe is obtained, if codes are on. POTENT WEAPONS AND SPELLS!
#001: Leg Eater
#002: Vampire Thorn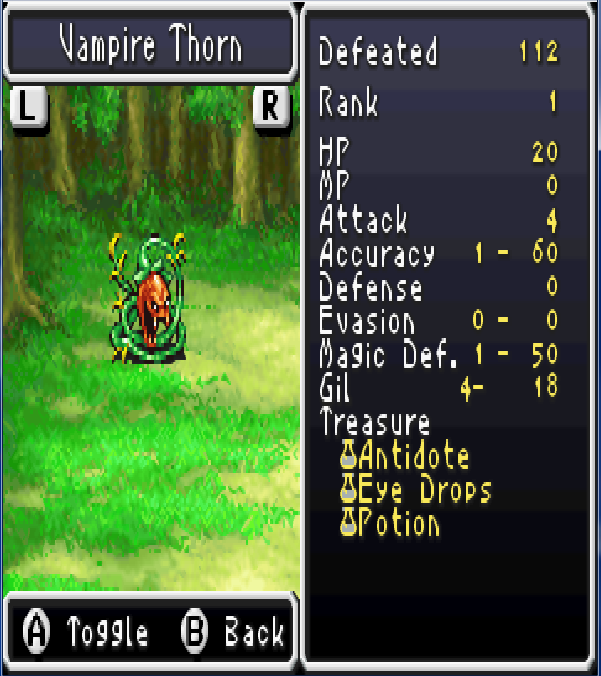 #003: Hornet
#004: Queen Bee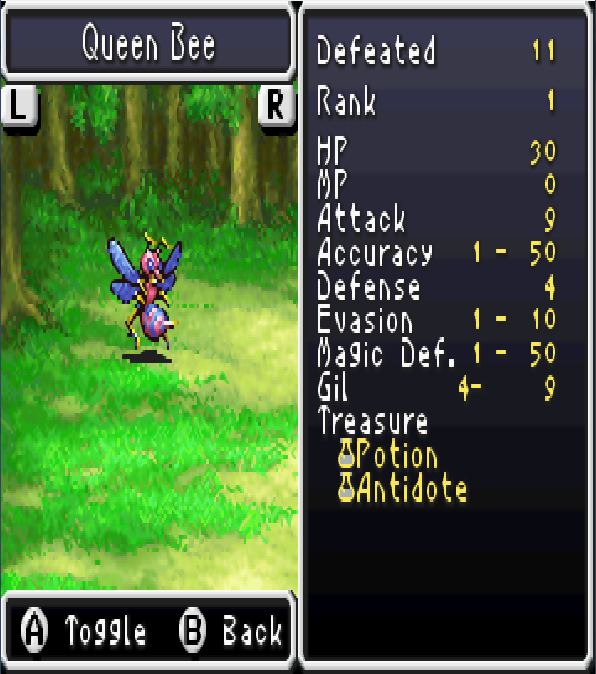 #005: Snowman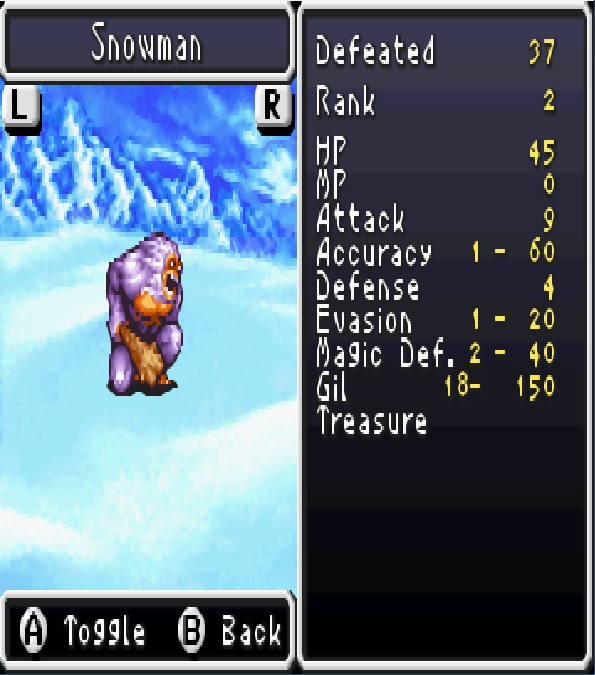 #006: Sasquatch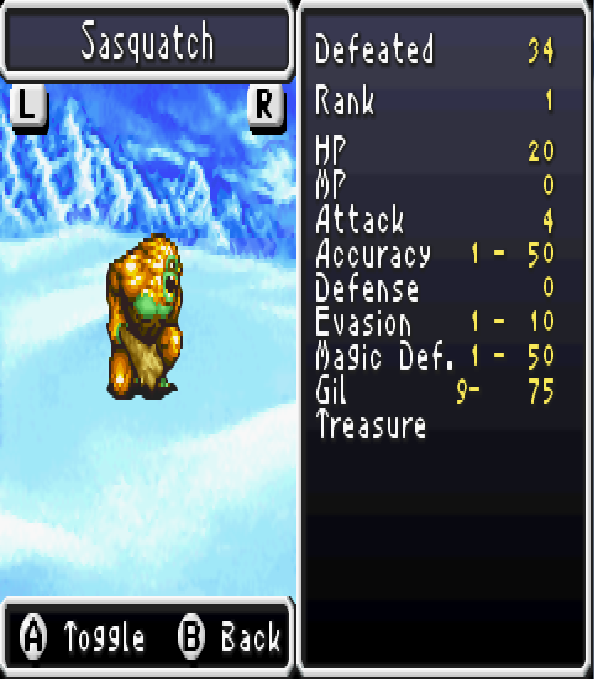 #007: Icicle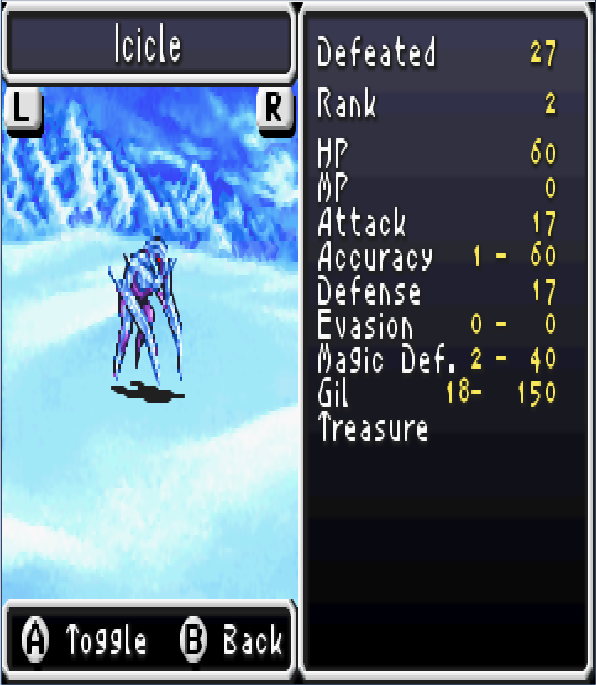 #008: Stalactite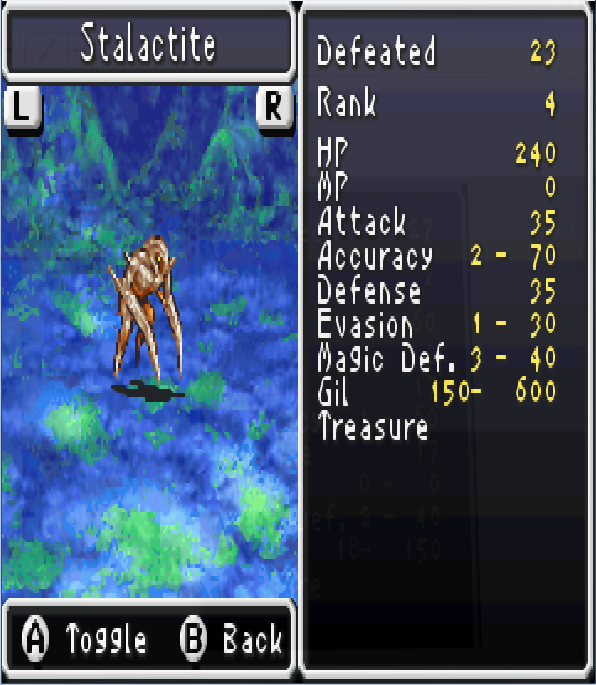 #009: Stalagmite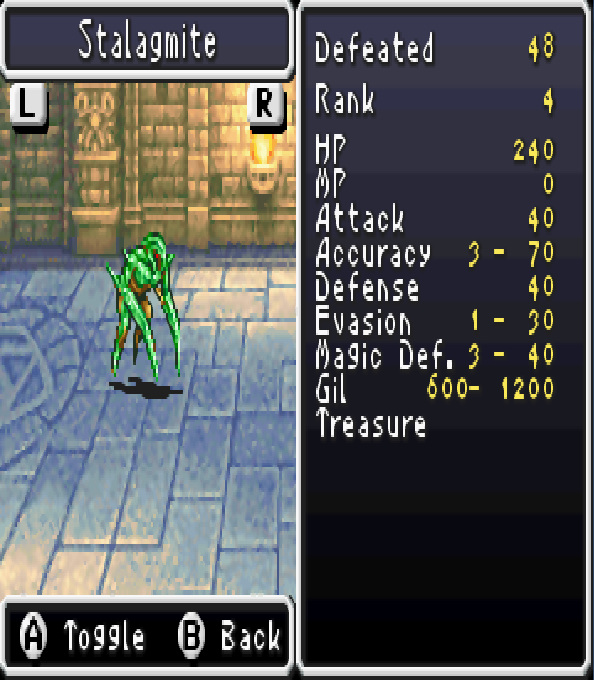 #010: Sprinter





#011: Phorusracos





#012: Adamantoise (boss)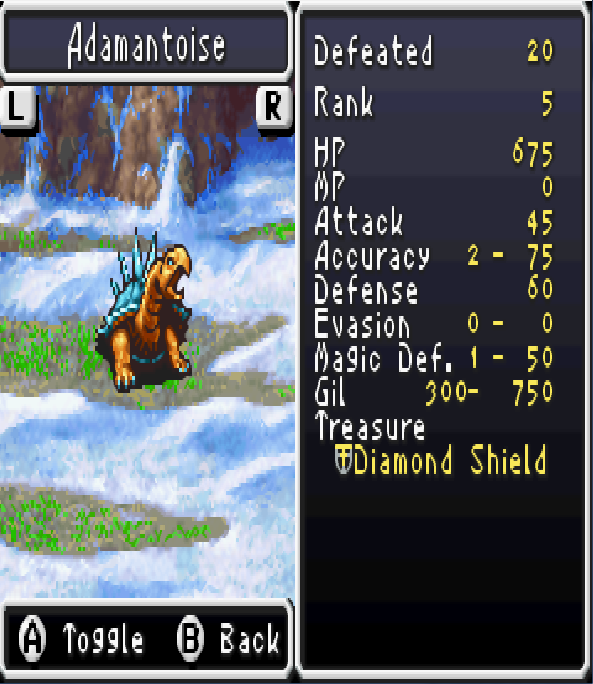 #013: Land Turtle





#014: Ogre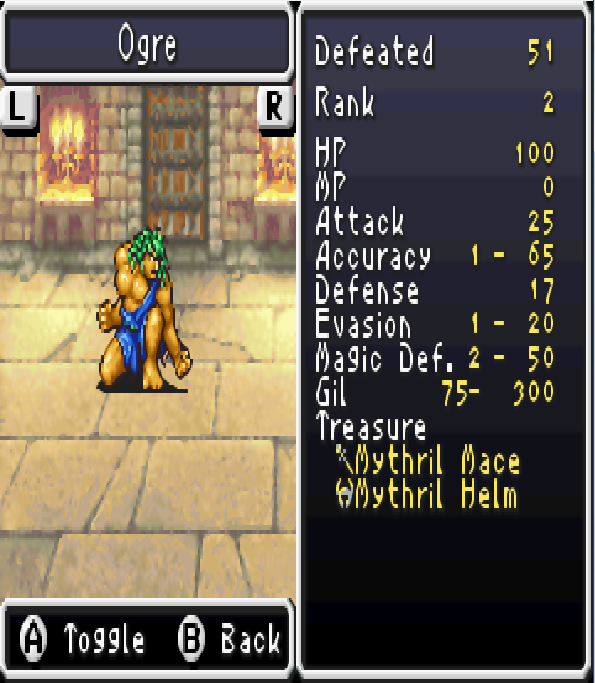 #015: Ogre Mage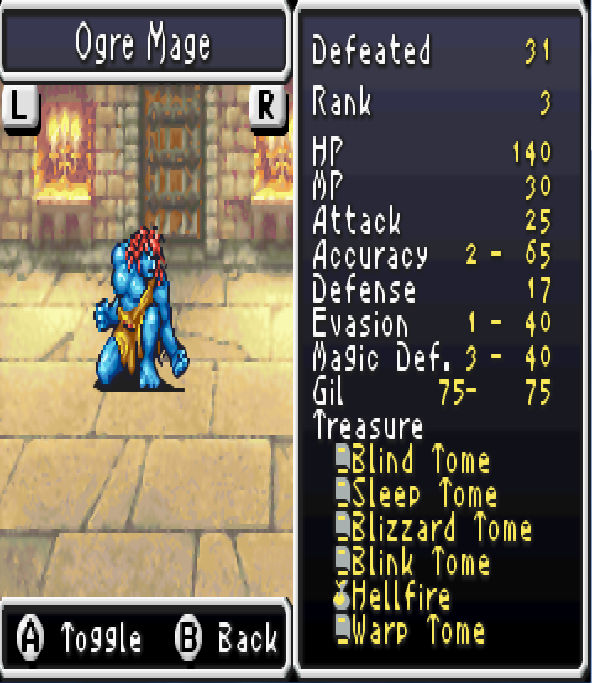 #016: Ogre Chief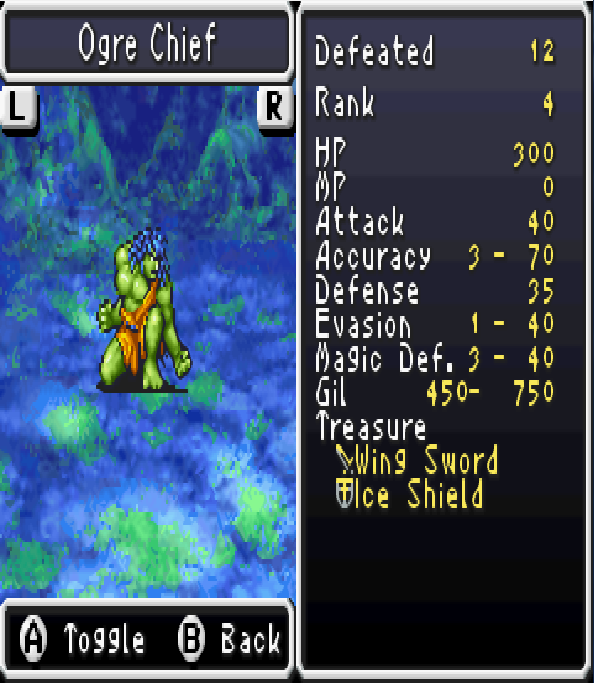 #017: Dual Heads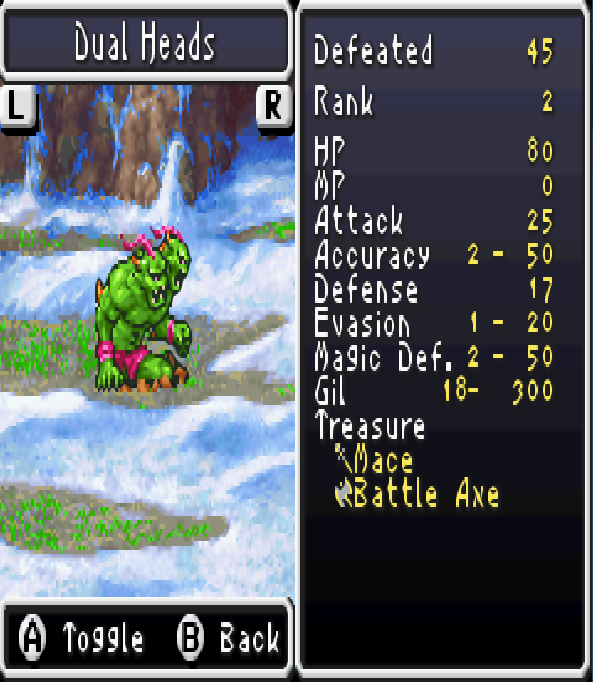 #018: Dual Deads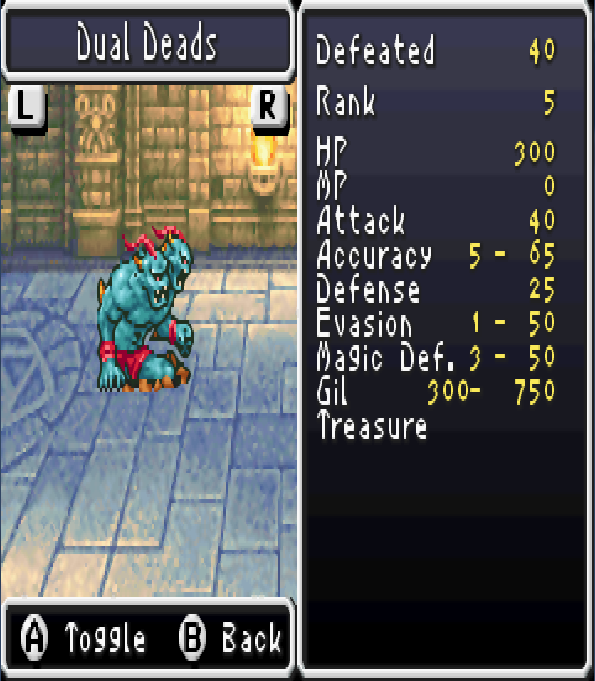 #019: Wererat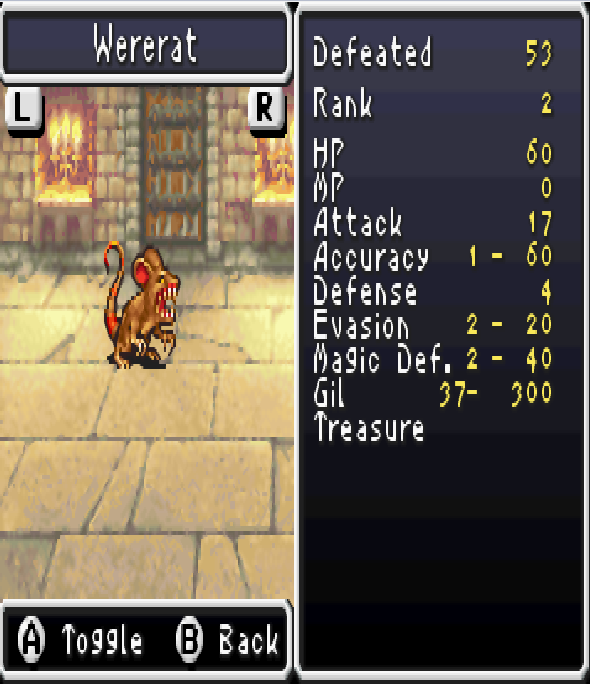 #020: Stunner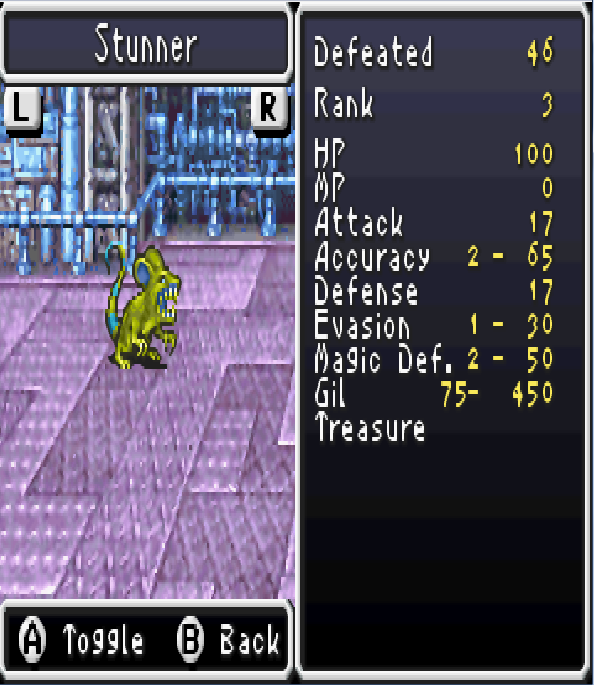 #021: Dead Head





#022: Skull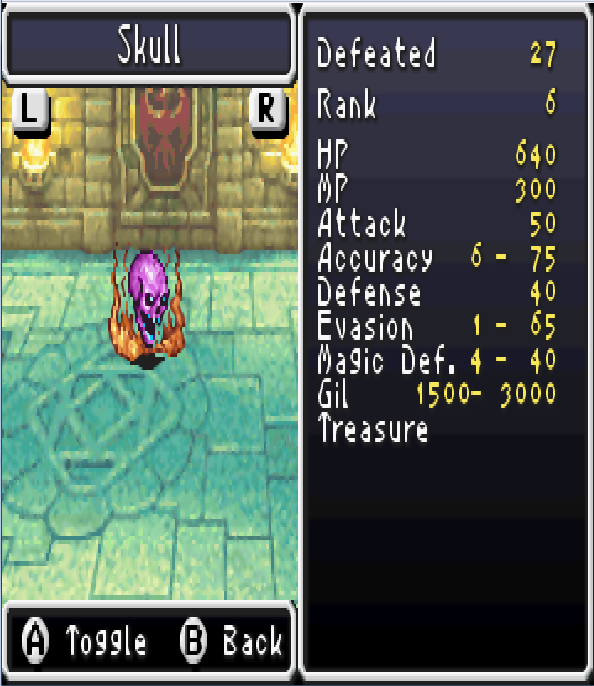 #023: Zombie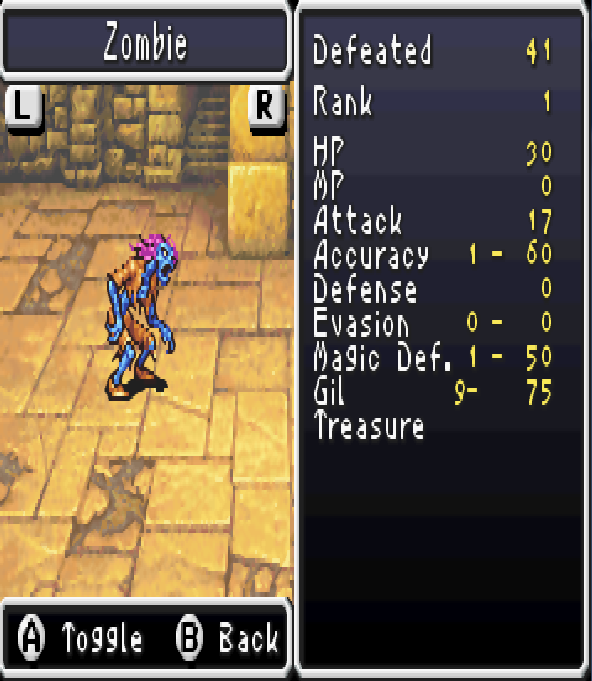 #024: Ghoul





#025: Ghast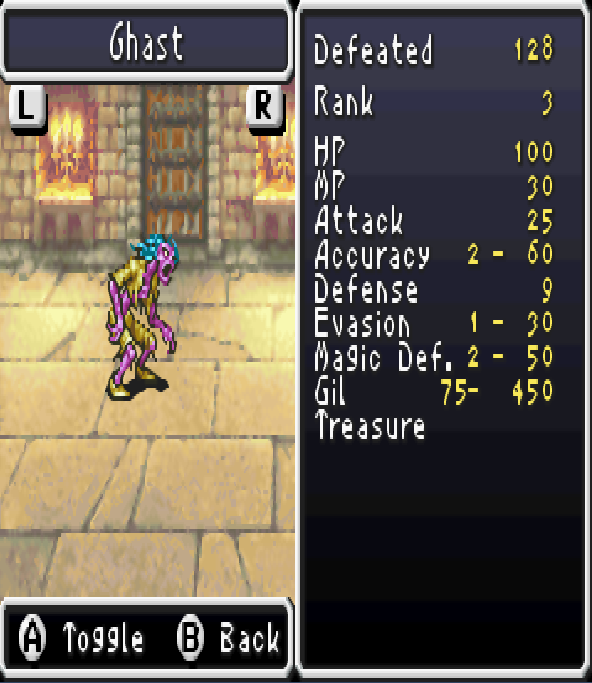 #026: Revenant





#027: Shadow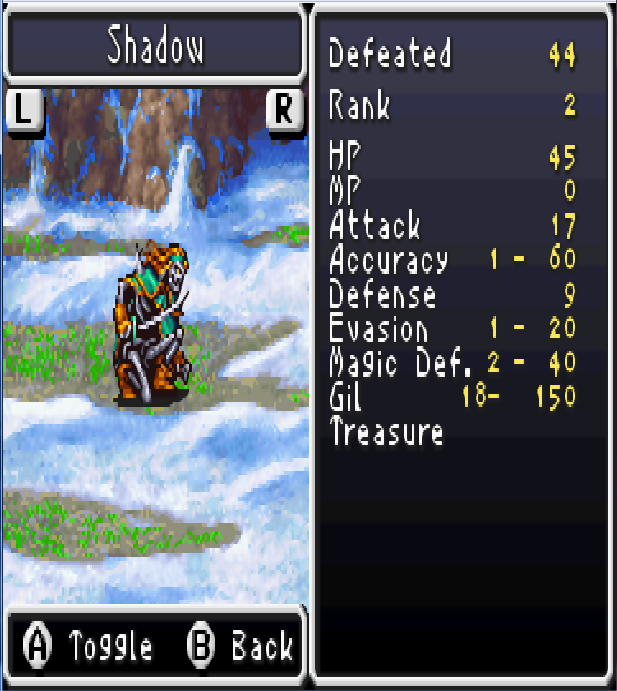 #028: Wraith





#029: Specter





#030: Ghost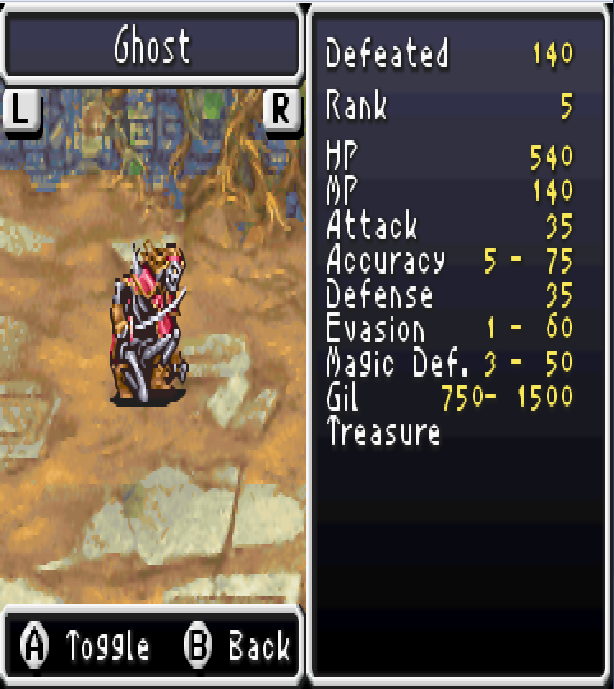 #031: Antlion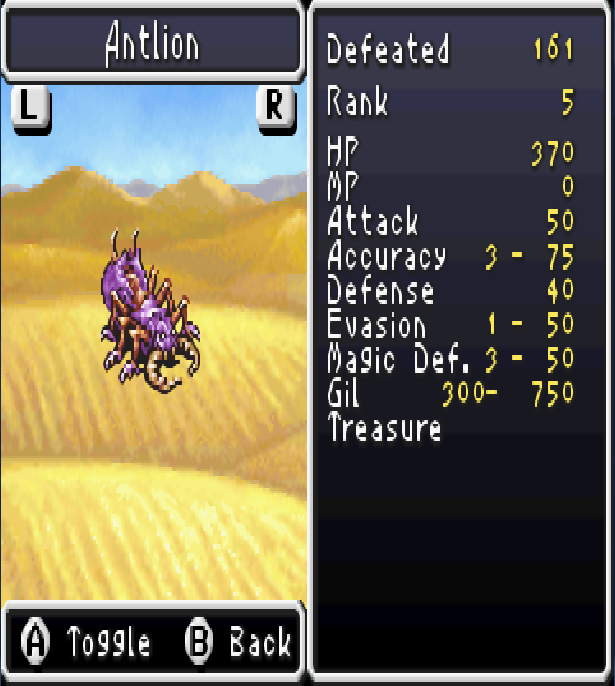 #032: Scissorjaws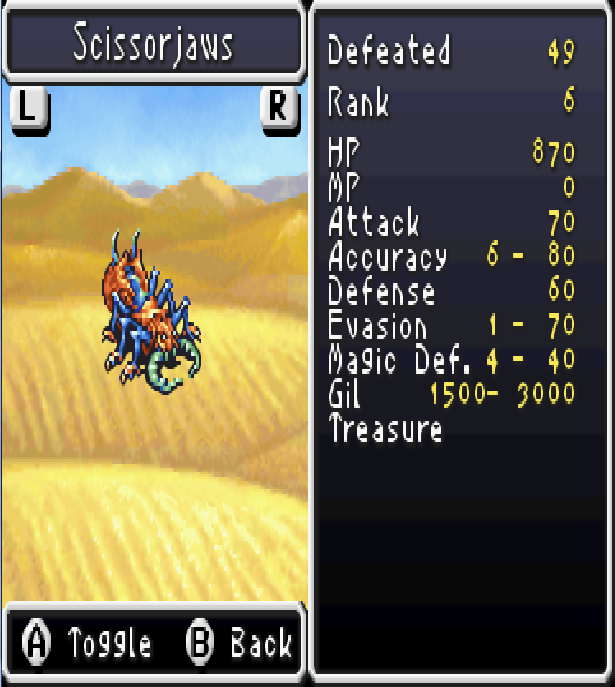 #033: Gottos (boss)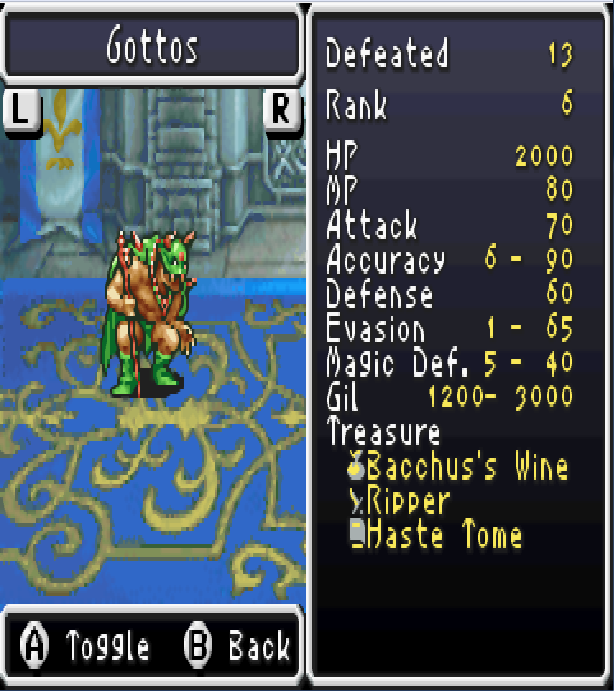 #034: Beast Demon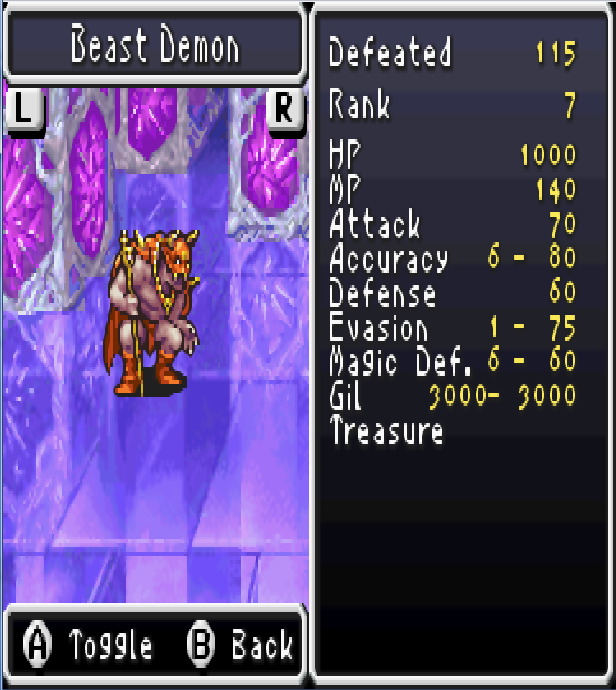 #035: Chimera (boss)





#036: Rhyos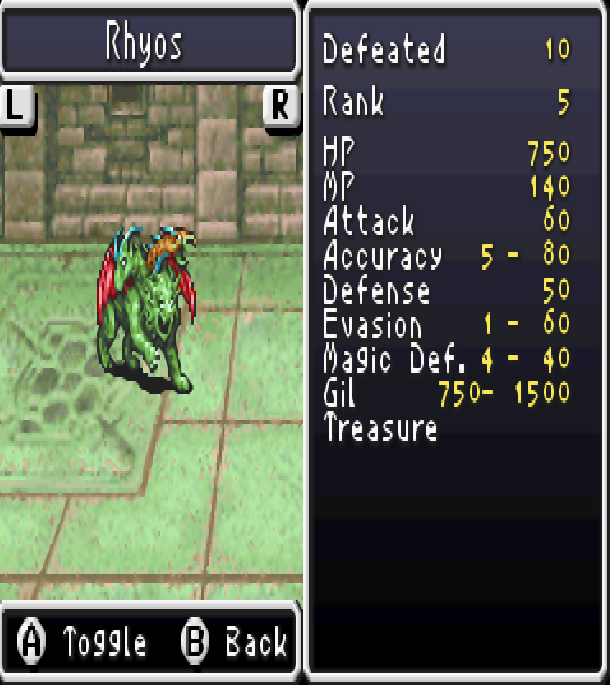 #037: Chimera Sphinx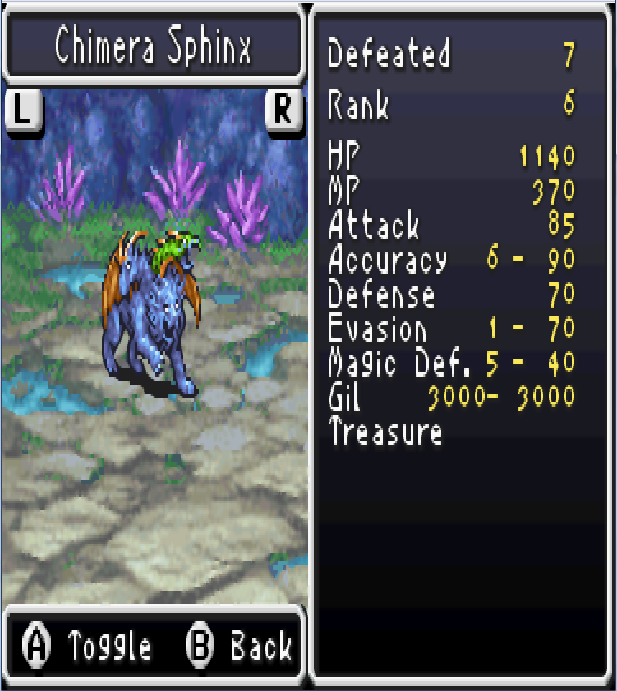 #038: Death Flower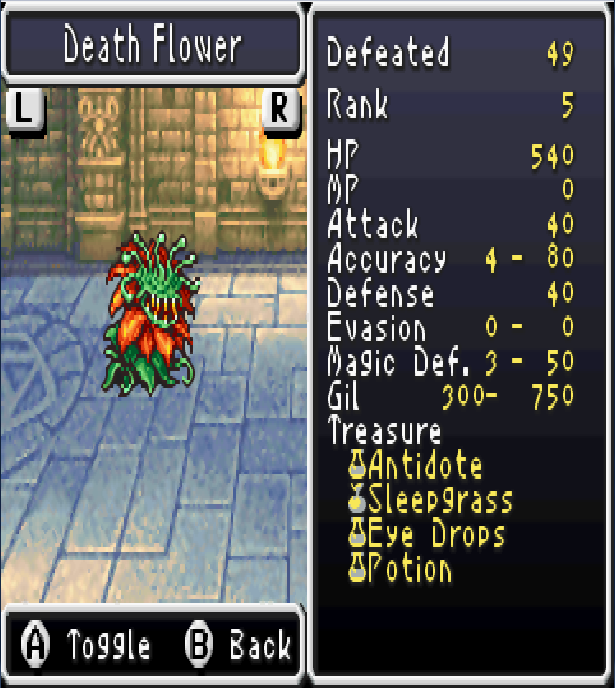 #039: Devil's Bloom





#040: Killer Fish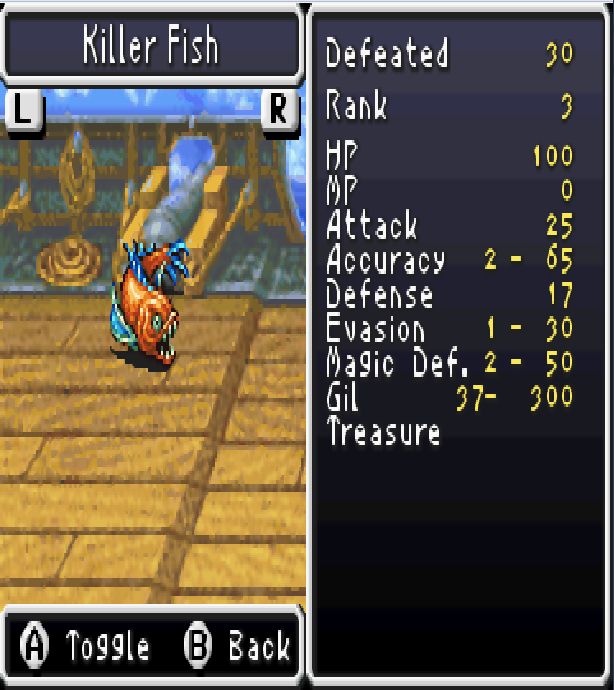 #041: Bolt Fish





#042: Helldiver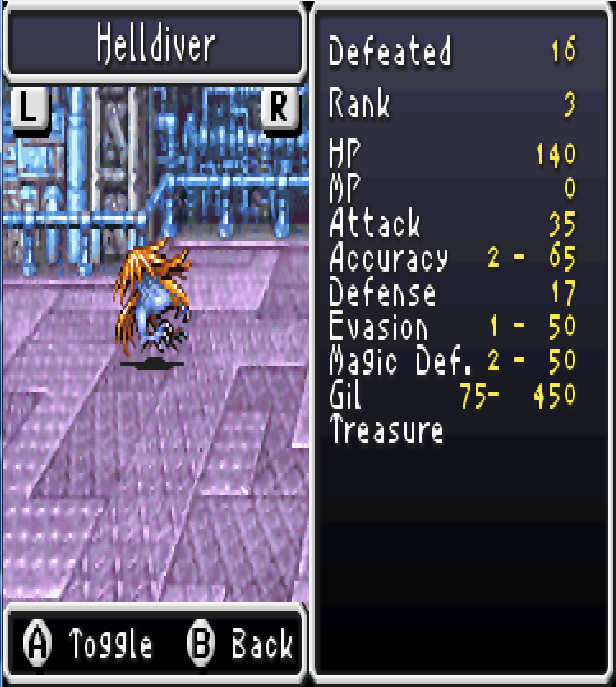 #043: Cockatrice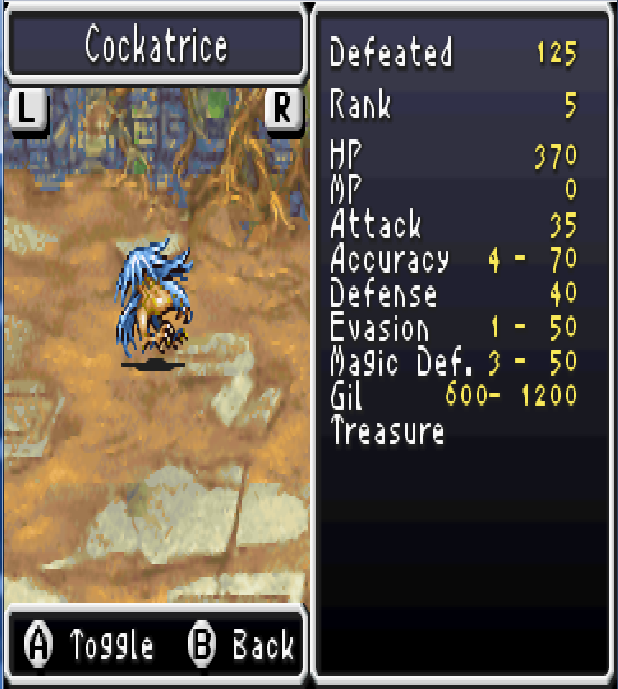 #044: Pirate (boss x8)





#045: Buccaneer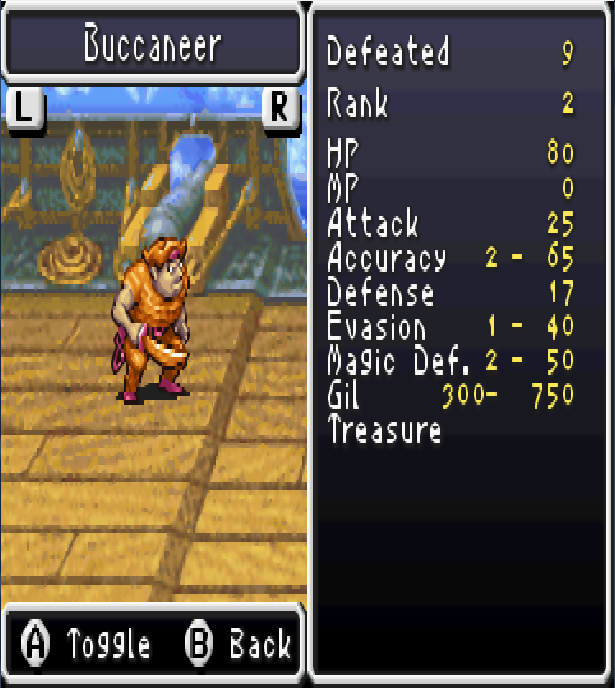 #046: Borghen (boss)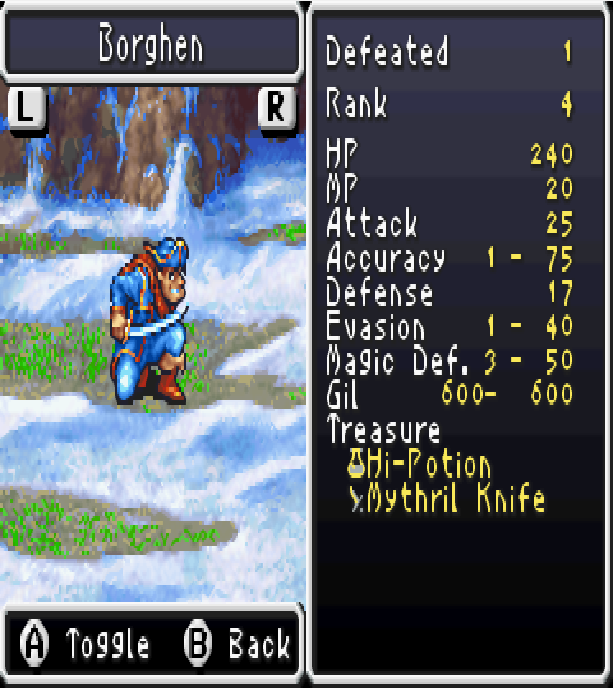 #047: Zombie Borghen 1





#048: Big Horn (boss)





#049: Wild Horn





#050: Poison Toad





#051: Gigantoad





#052: Sea Snake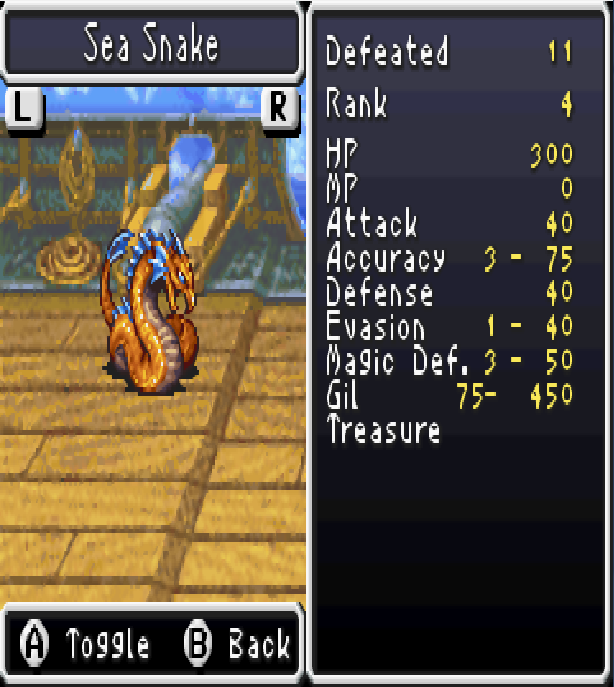 #053: Sea Dragon





#054: Land Ray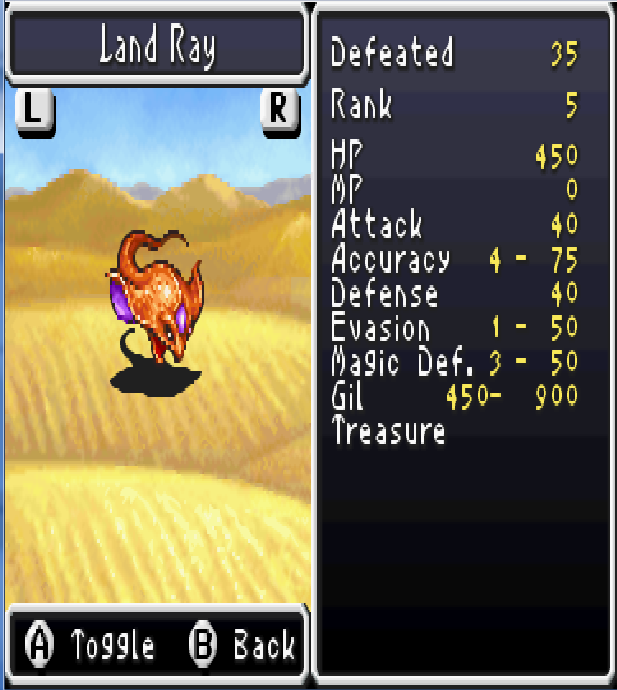 #055: Manta Ray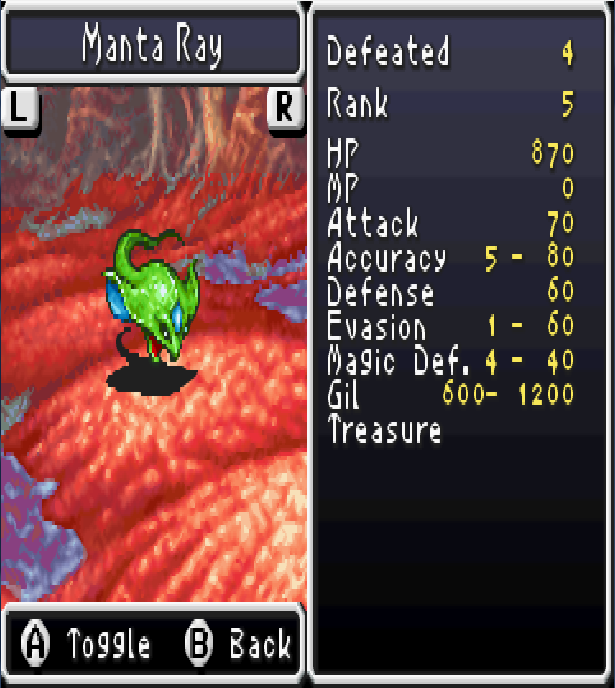 #056: Flying Ray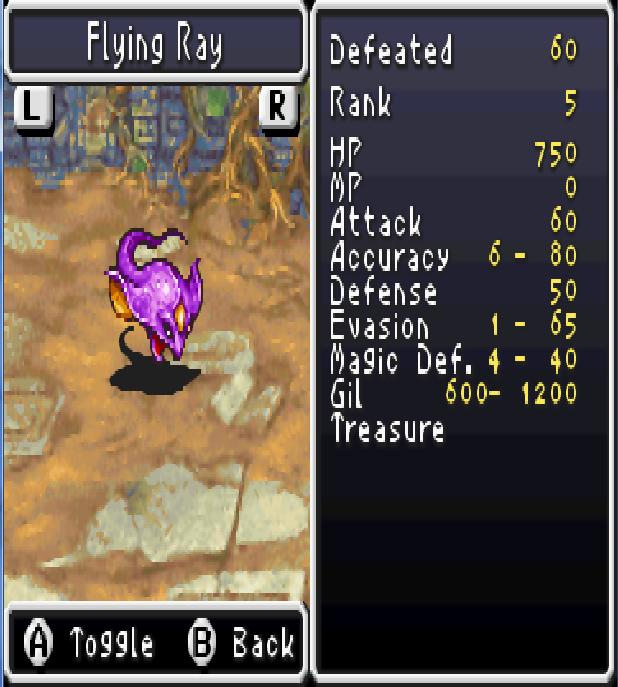 #057: Changer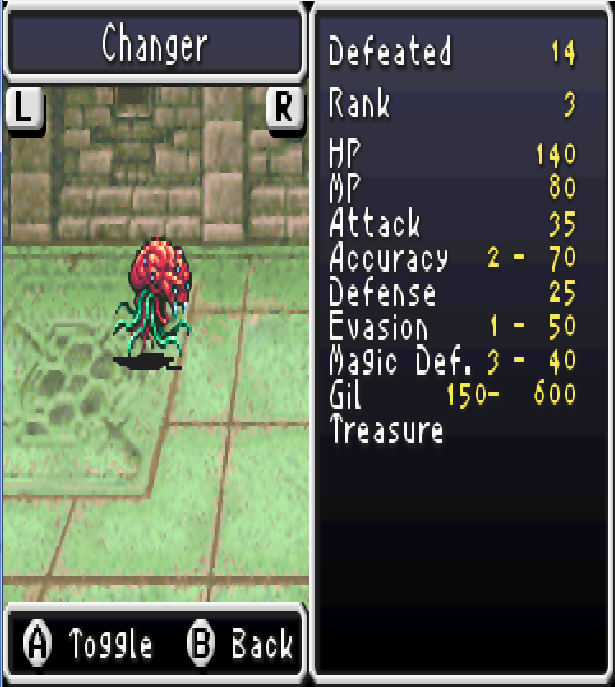 #058: Brain





#059: Parasite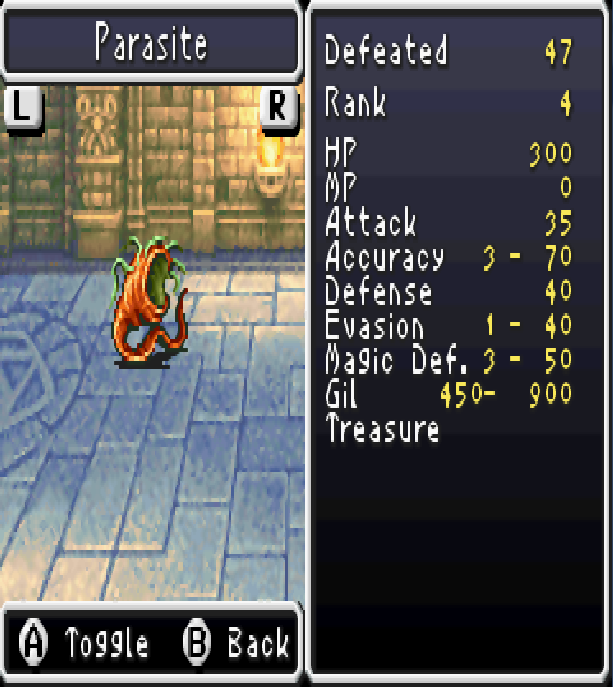 #060: Mega Parasite





#061: Werewolf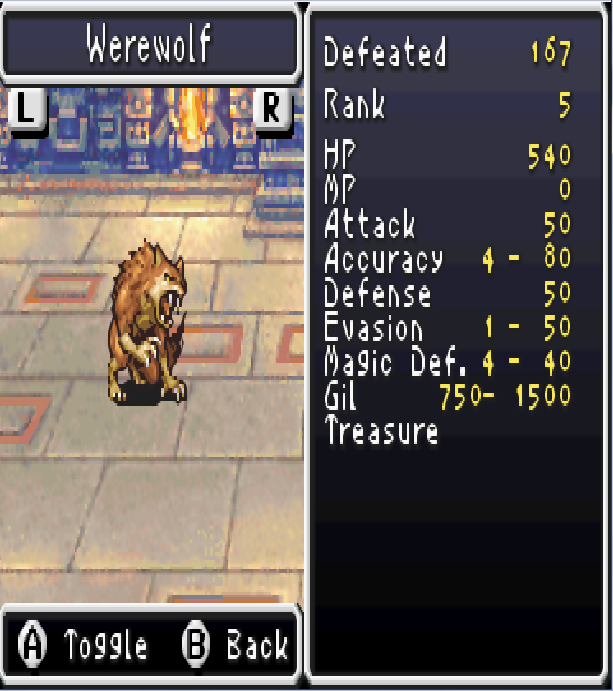 #062: Devil Wolf





#063: Imp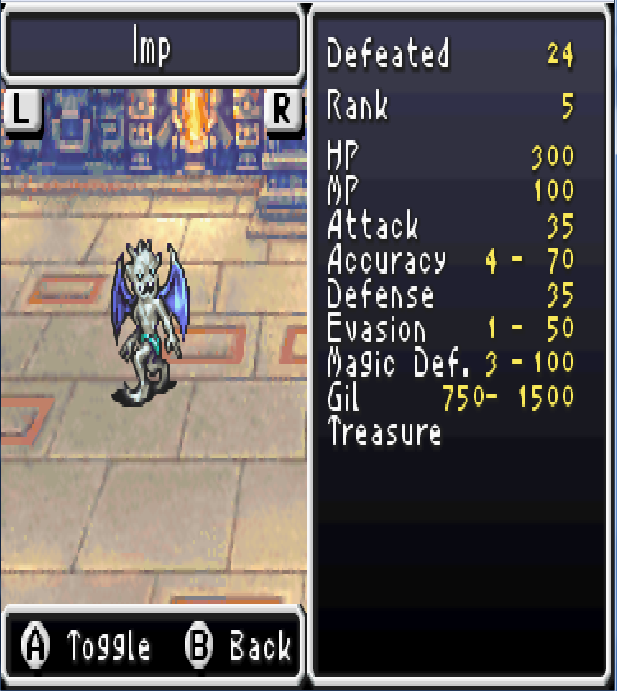 #064: Pit Fiend





#065: Malboro





#066: Malboro Terra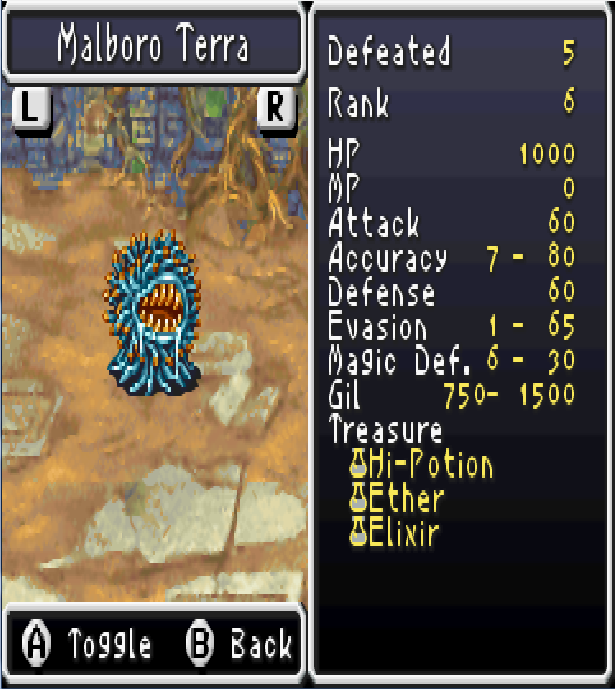 #067: Great Malboro





#068: Basilisk





#069: Salamander





#070: Ice Lizard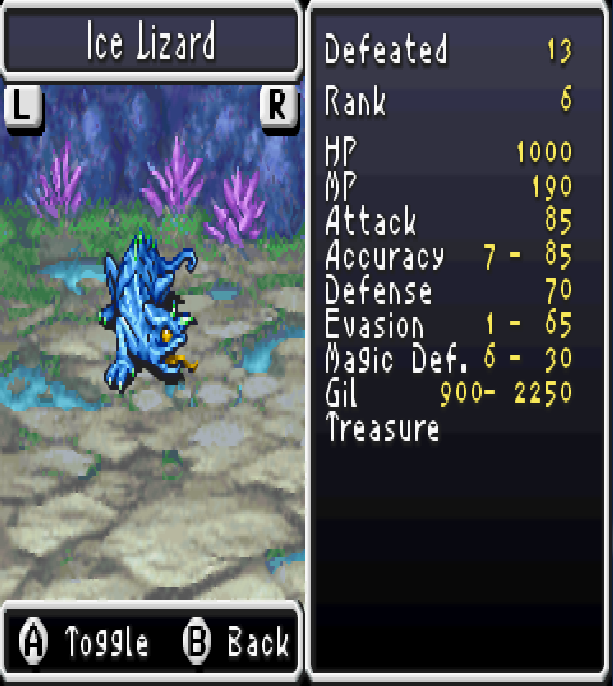 #071: Eyemoeba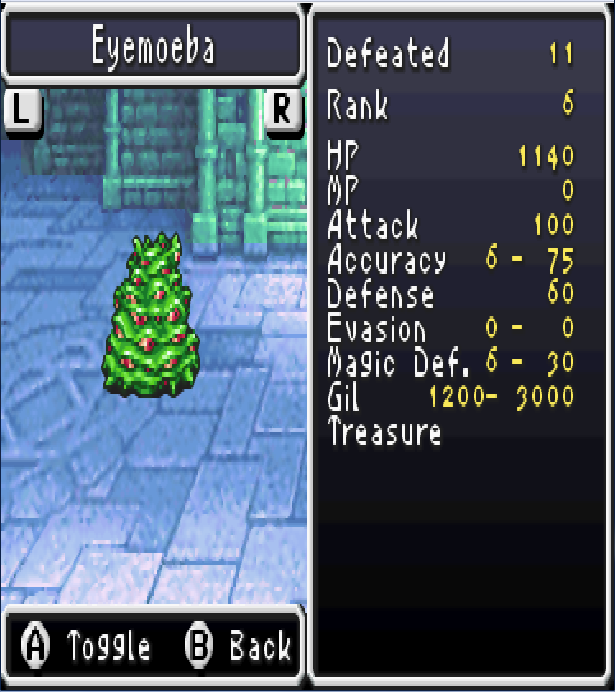 #072: Hecteyes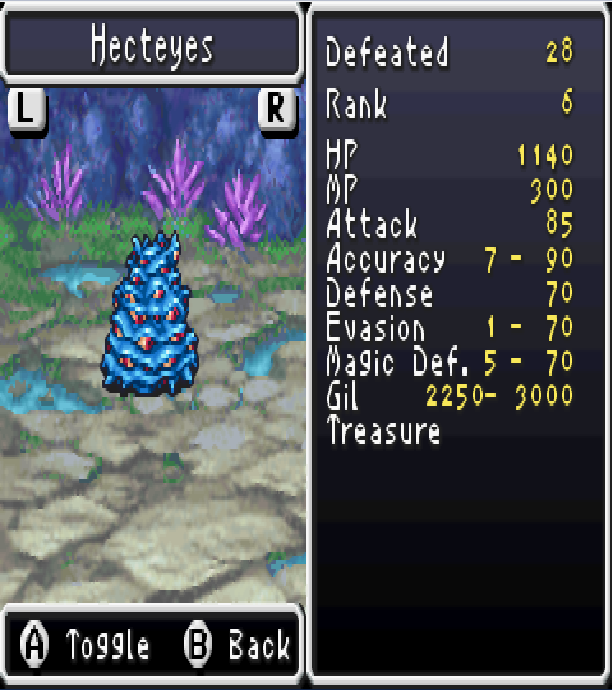 #073: Roundworm 1 (boss)





#074: Sand Worm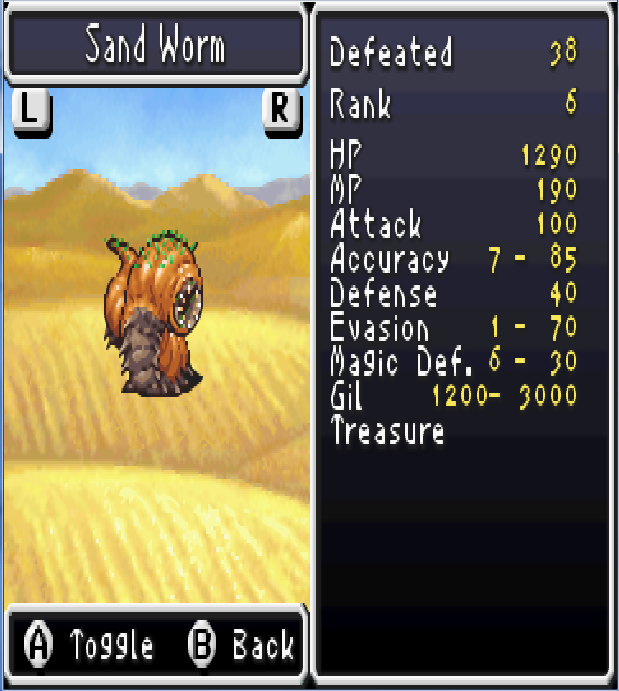 #075: Abyss Worm





#076: Green Slime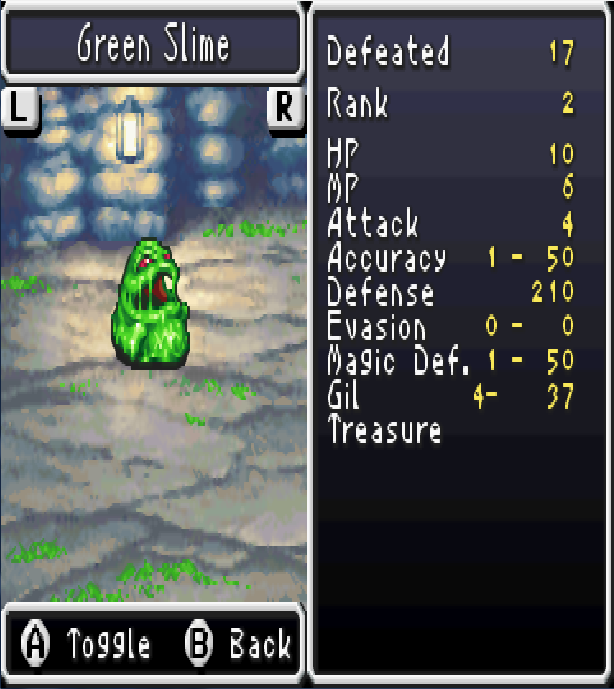 #077: Yellow Jelly





#078: Red Mousse





#079: Black Flan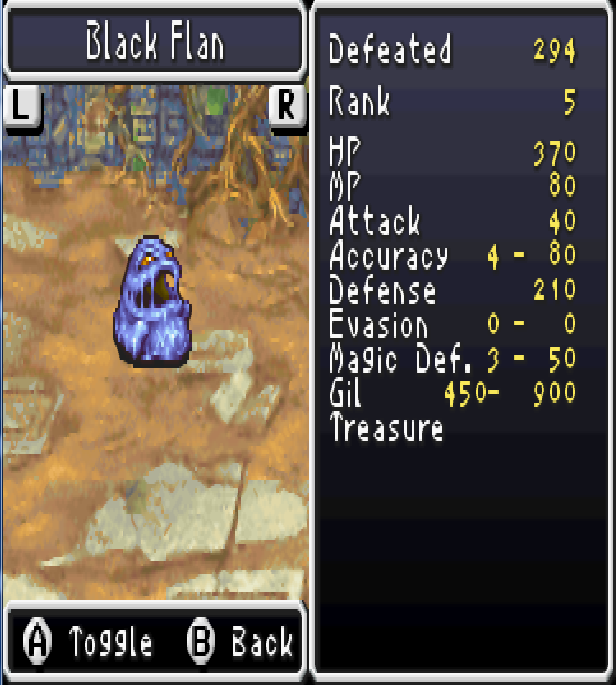 #080: Red Soul (boss)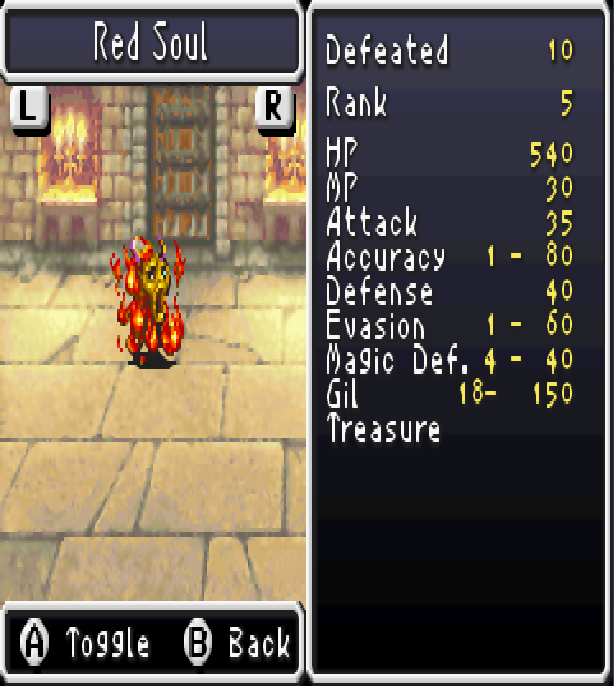 #081: Green Soul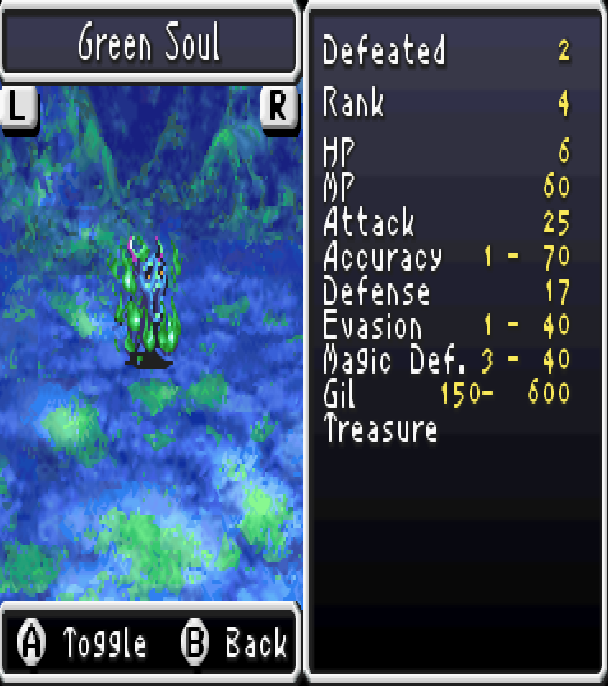 #082: Yellow Soul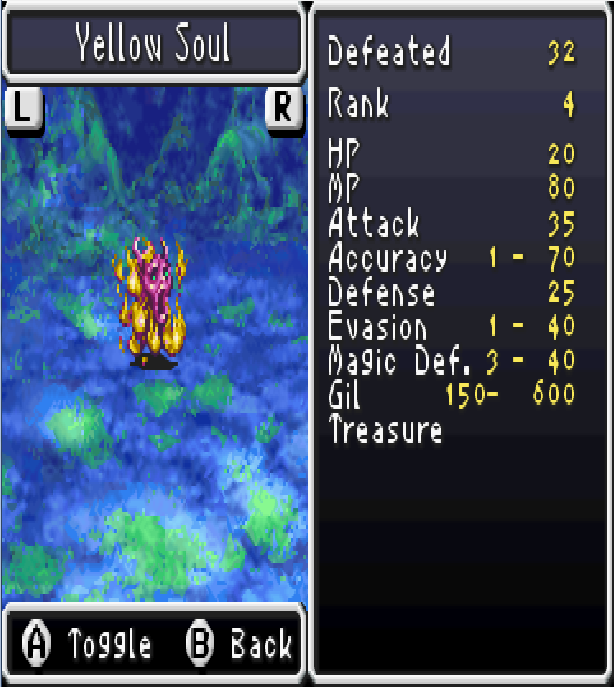 #083: Vampire Girl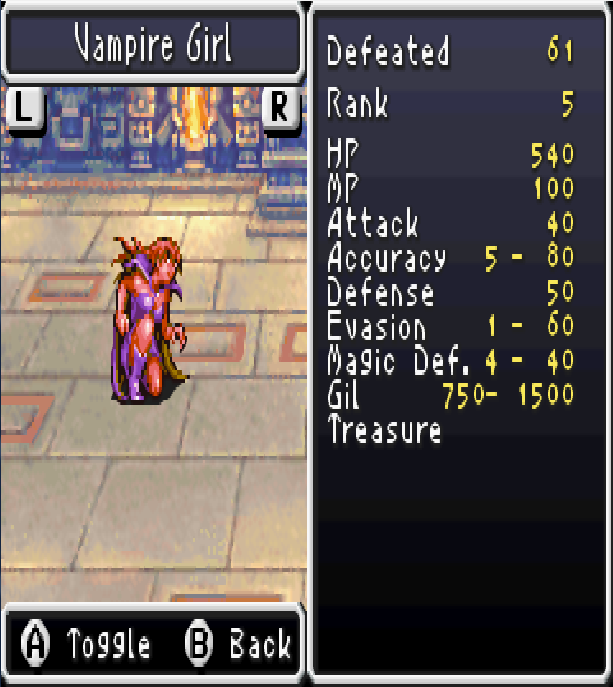 #084: Vampire Lady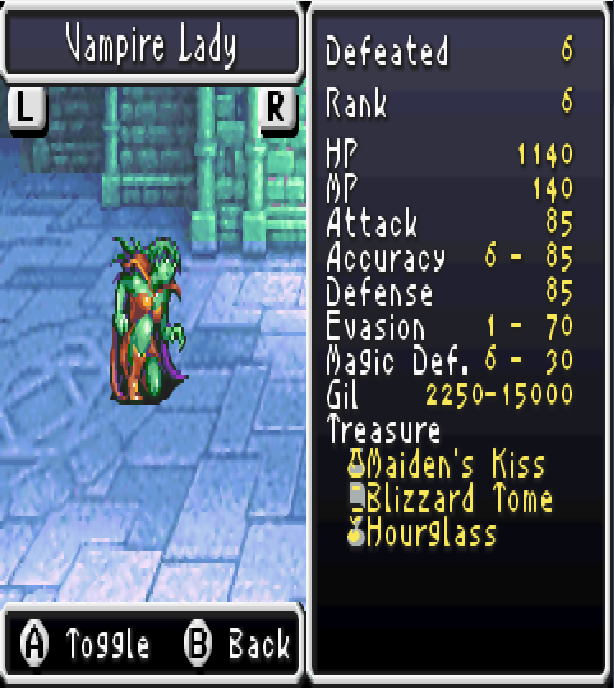 #085: Emperor 1 (boss)





#086: Imperial Shadow





#087: Killer Mantis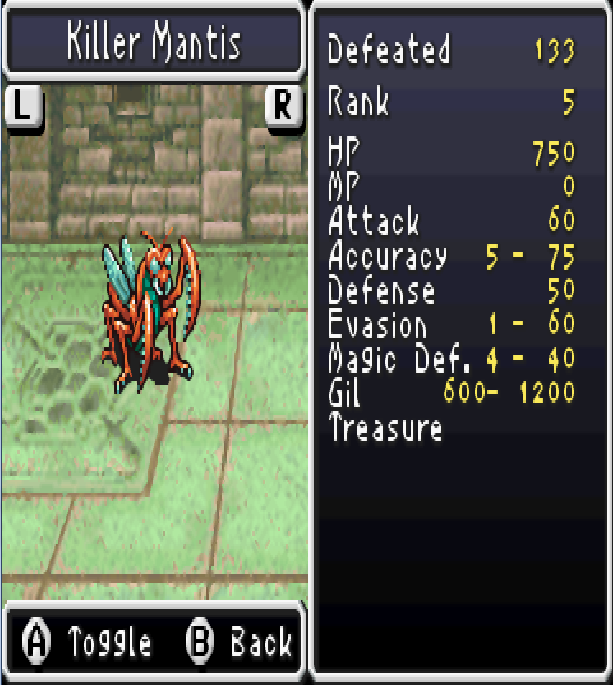 #088: Mantis King





#089: Mantis Devil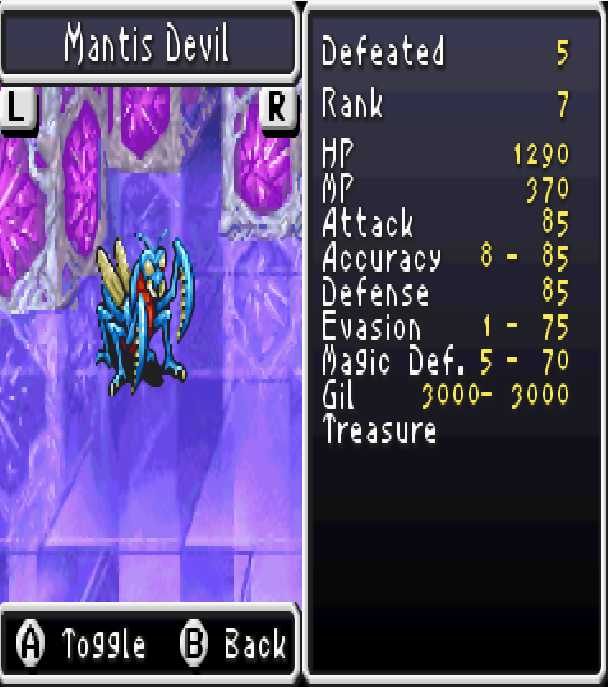 #090: Royal Guard (boss)





#091: Black Knight 1





#092: Death Rider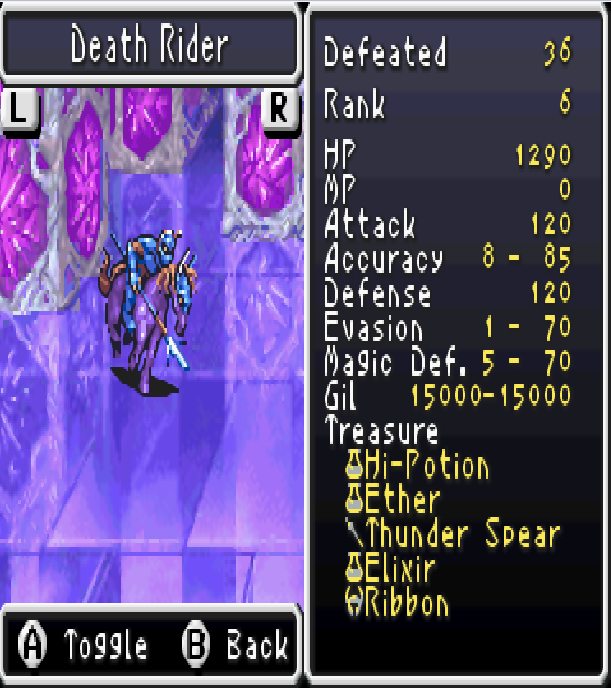 #093: Wood Golem





#094: Stone Golem





#095: Mythril Golem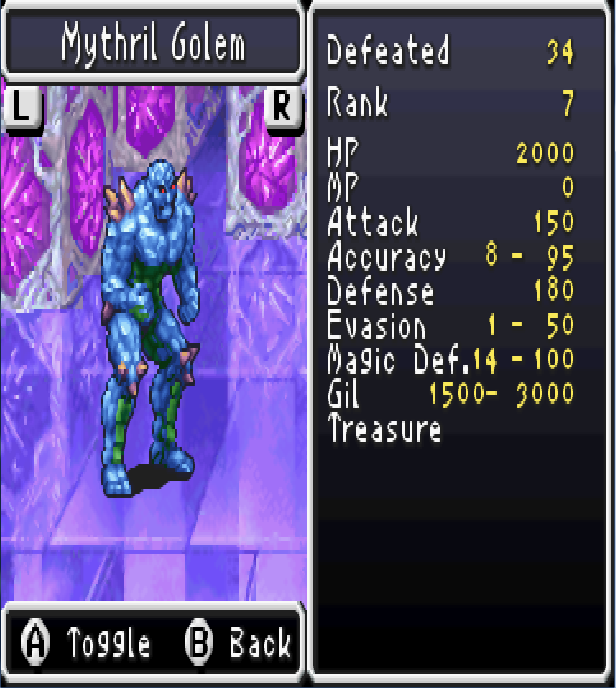 #096: Goblin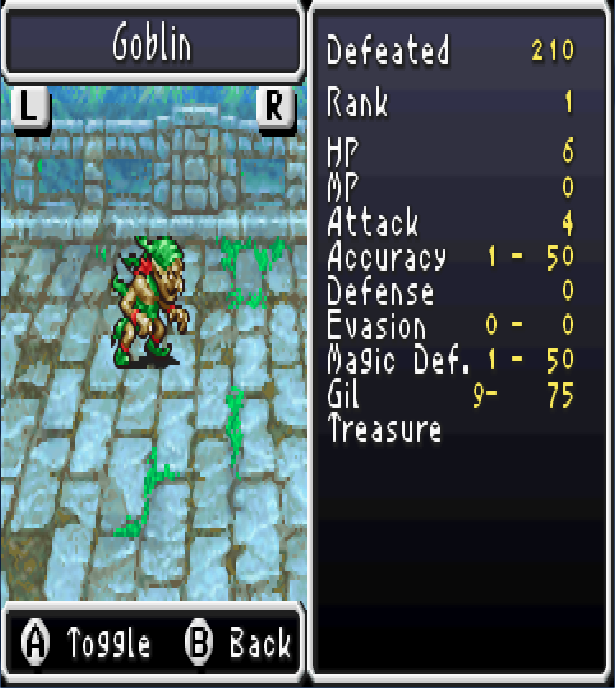 #097: Goblin Guard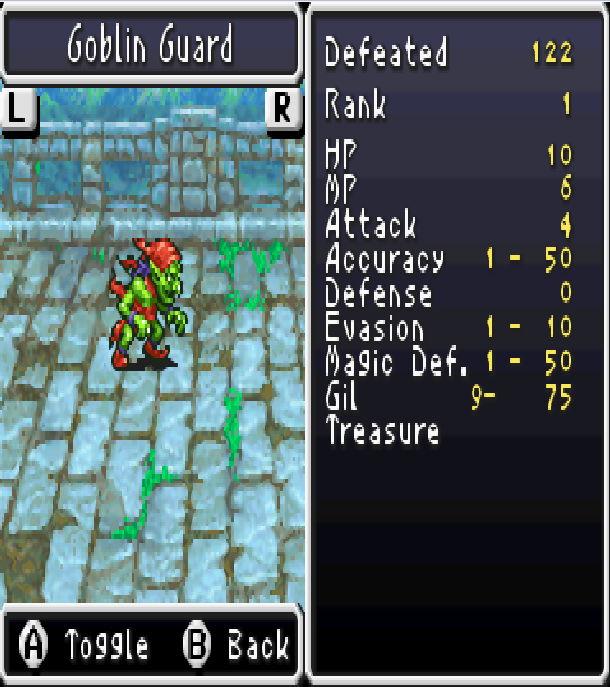 #098: Goblin Prince





#099: Balloon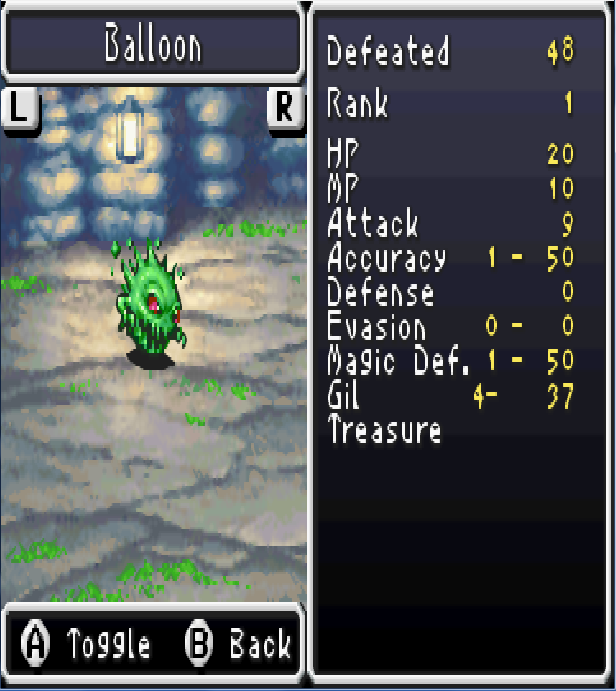 #100: Grenade





#101: Mine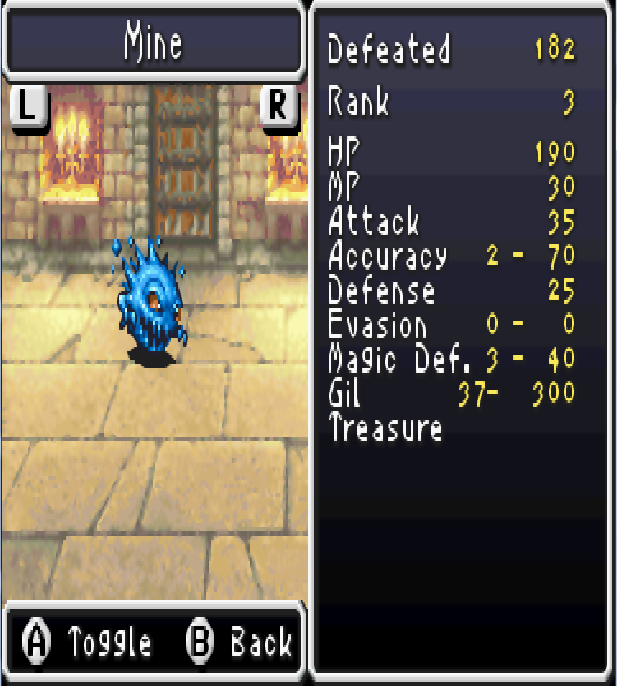 #102: Bomb





#103: Soldier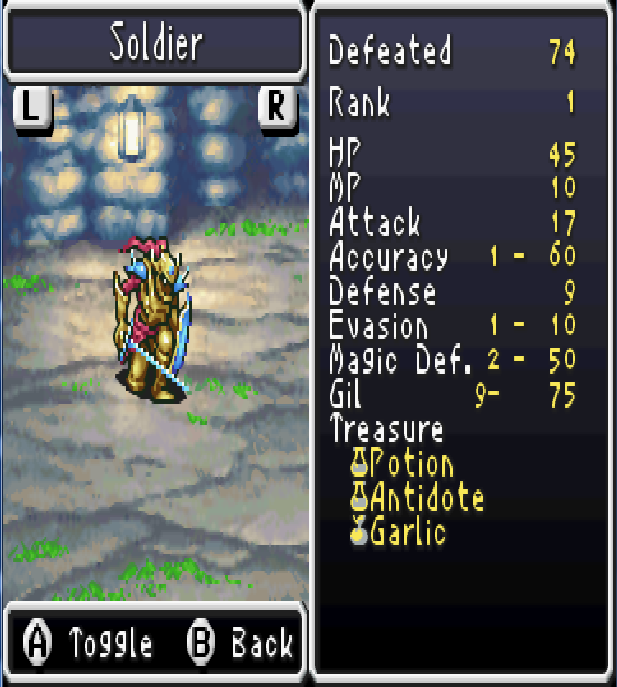 #104: Sergeant (boss)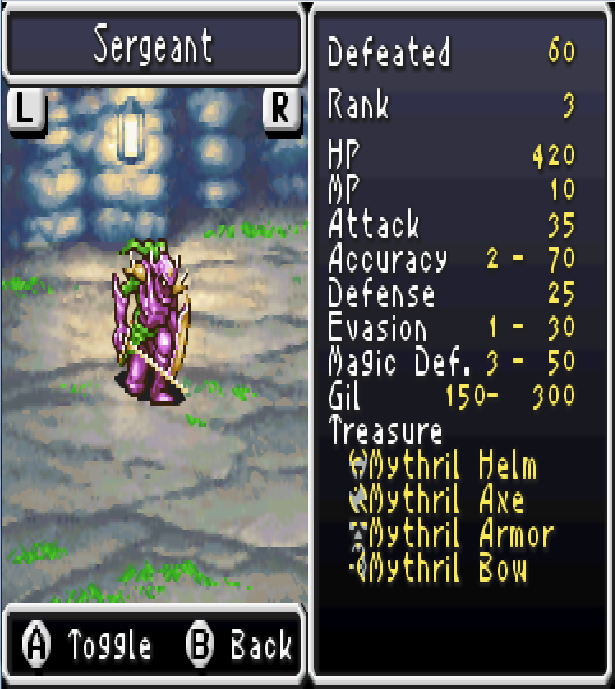 #105: Captain





#106: General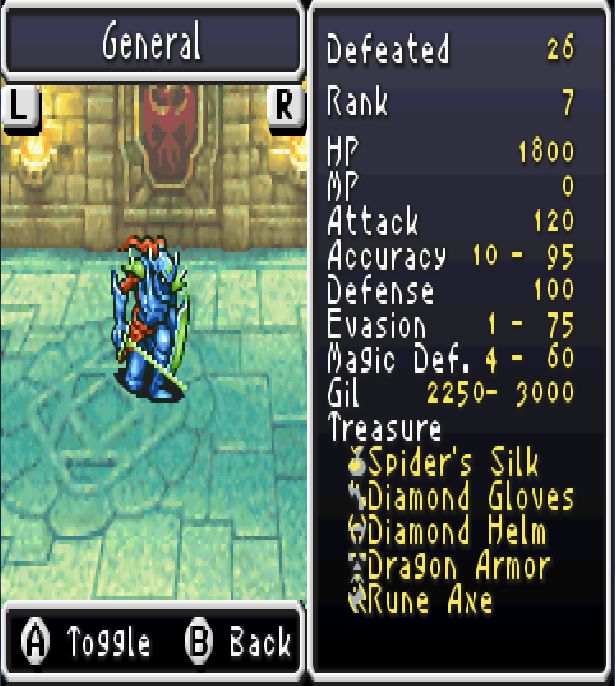 #107: Magician





#108: Sorcerer





#109: Wizard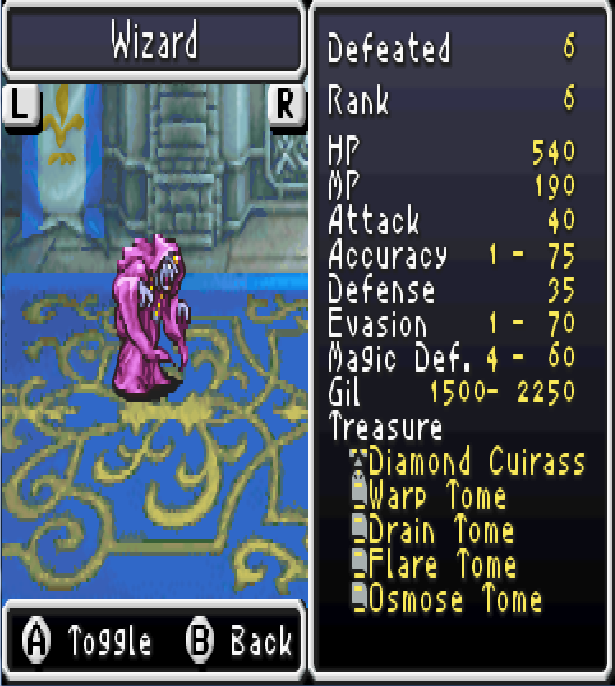 #110: Werepanther





#111: Coeurl





#112: Lamia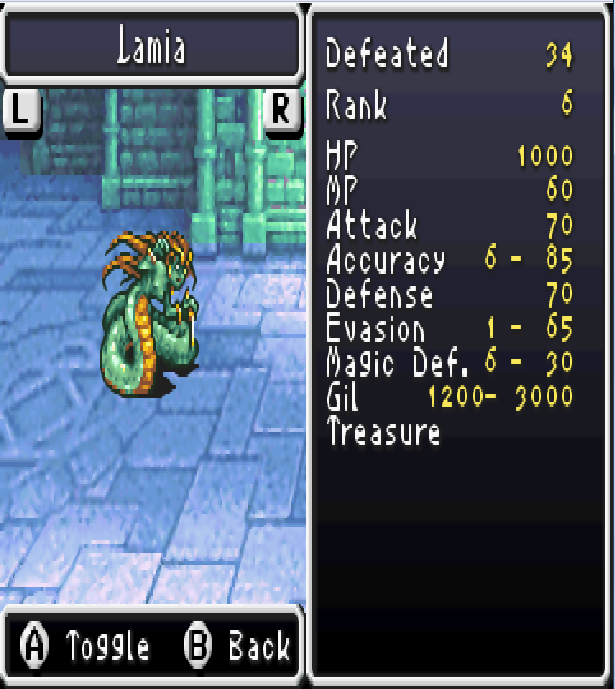 #113: Lamia Queen (boss)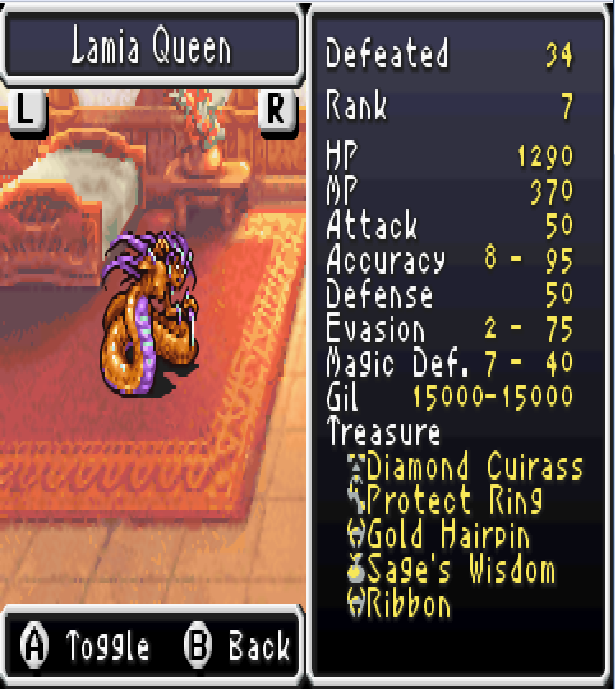 #114: Hill Gigas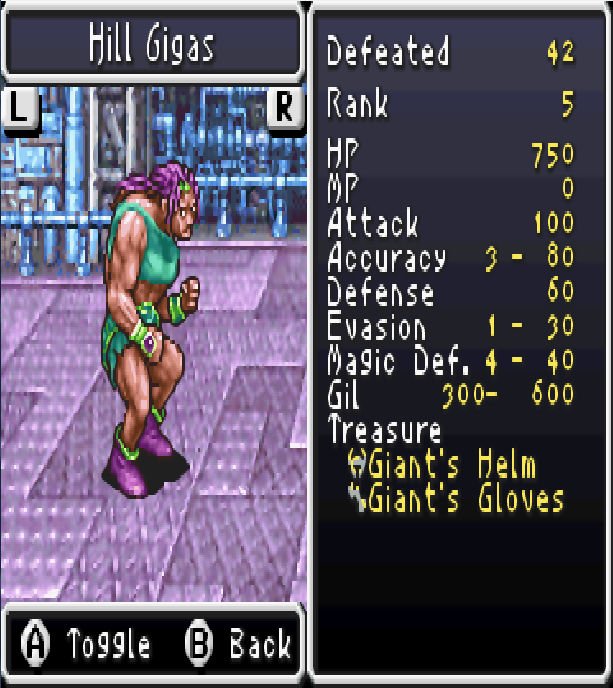 #115: Fire Gigas (boss)





#116: Ice Gigas (boss)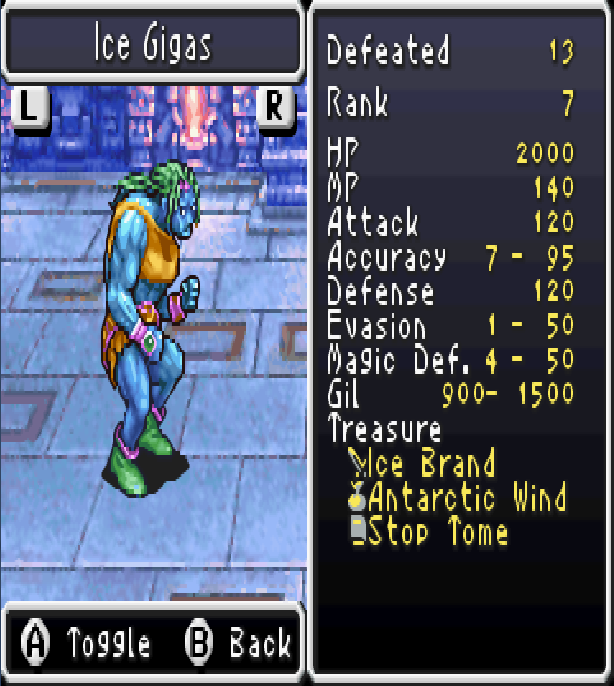 #117: Thunder Gigas (boss)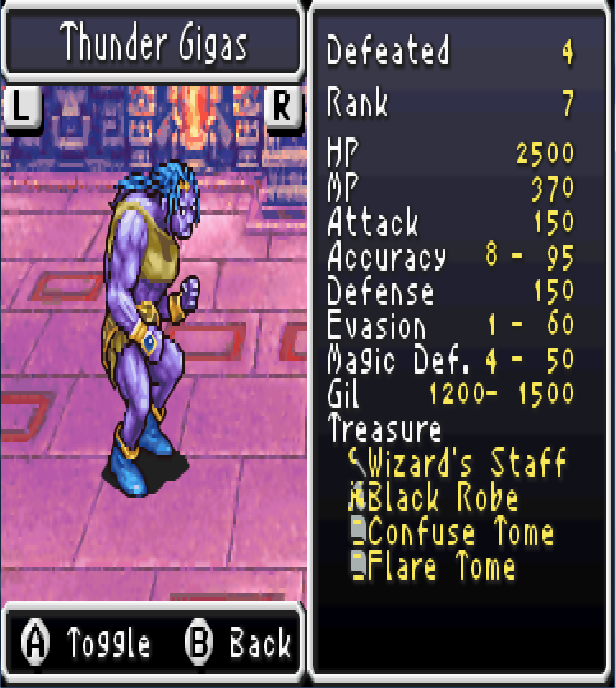 #118: Behemoth (boss)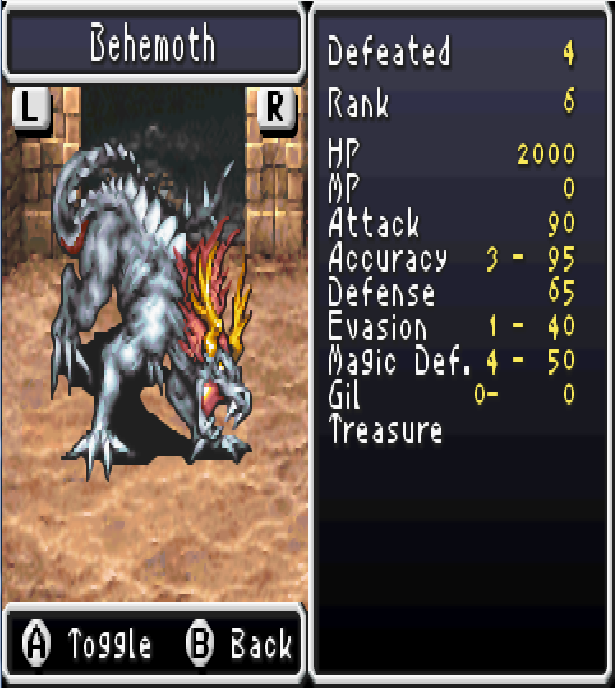 #119: King Behemoth (boss)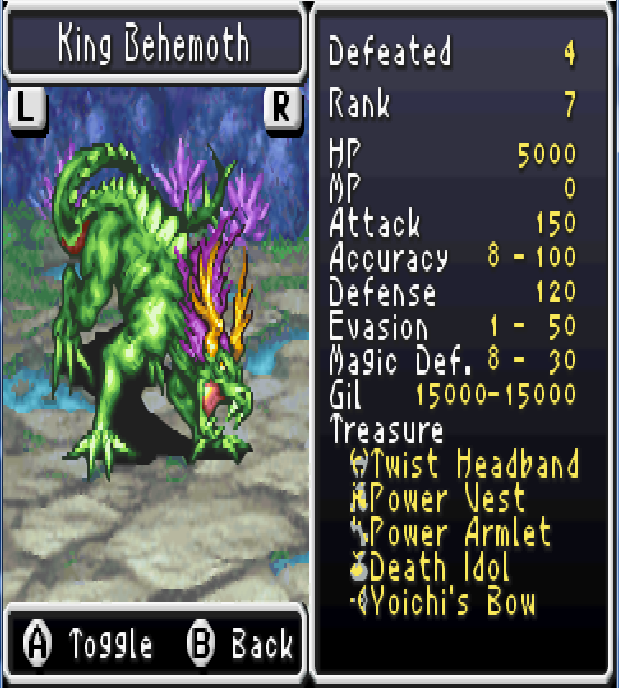 #120: White Dragon (boss)





#121: Green Dragon (boss)





#122: Blue Dragon (boss)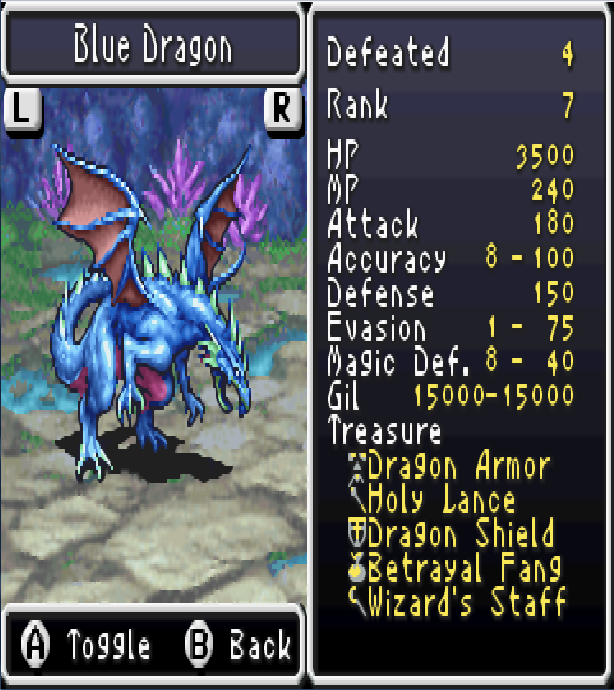 #123: Red Dragon (boss)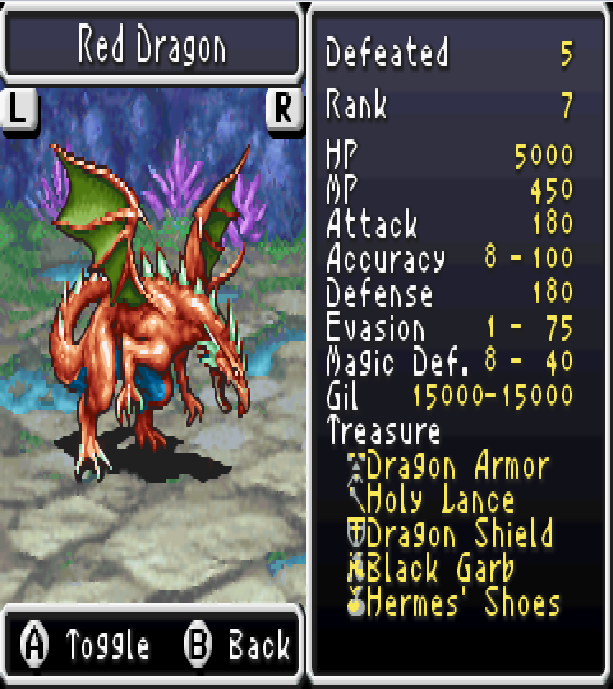 #124: Iron Giant (*very* rare; when encountered on Pandaemonium 6F, the music is that of a boss battle)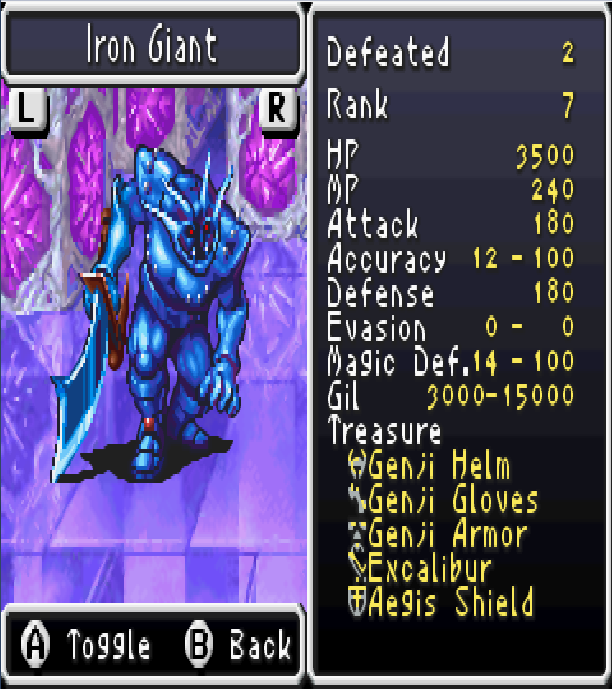 #125: Tiamat (boss)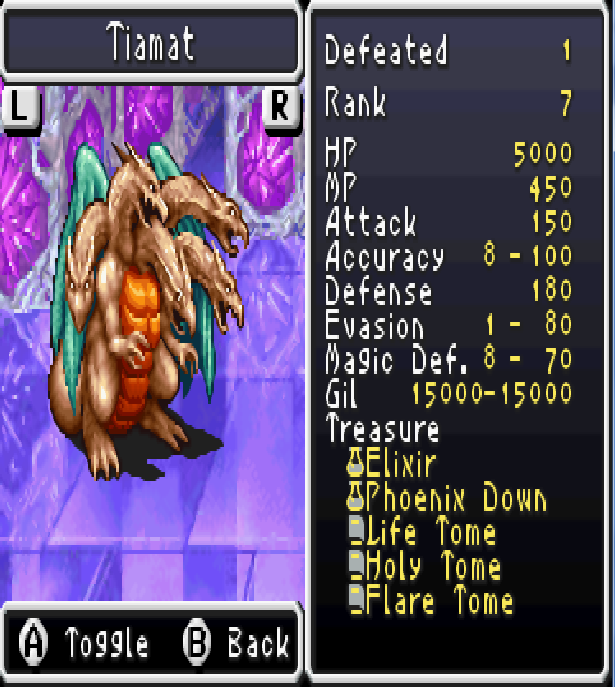 #126: Beelzebub (boss)





#127: Astaroth (boss)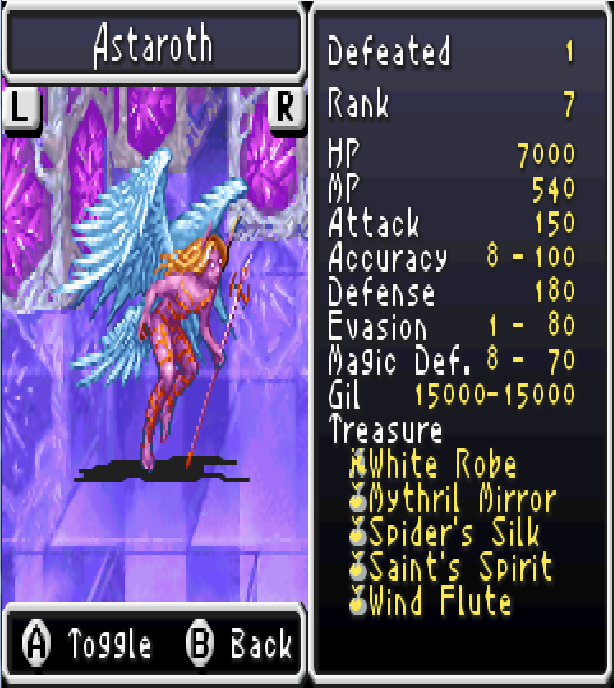 #128: Emperor 2 (boss)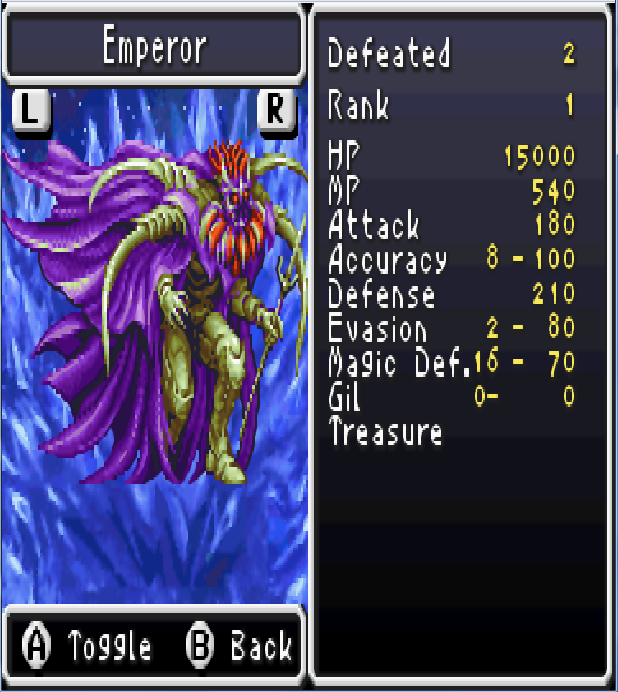 #129: Giga Parasite





#130: Soul Eater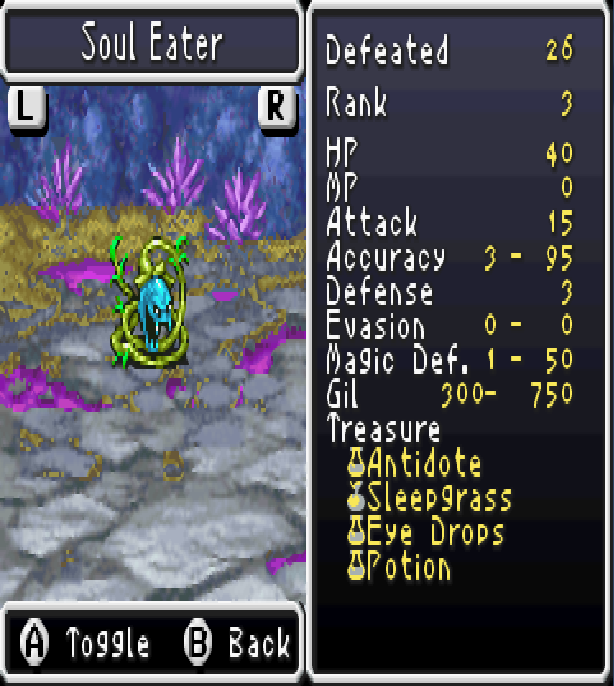 #131: Pyrolisk





#132: Flan Princess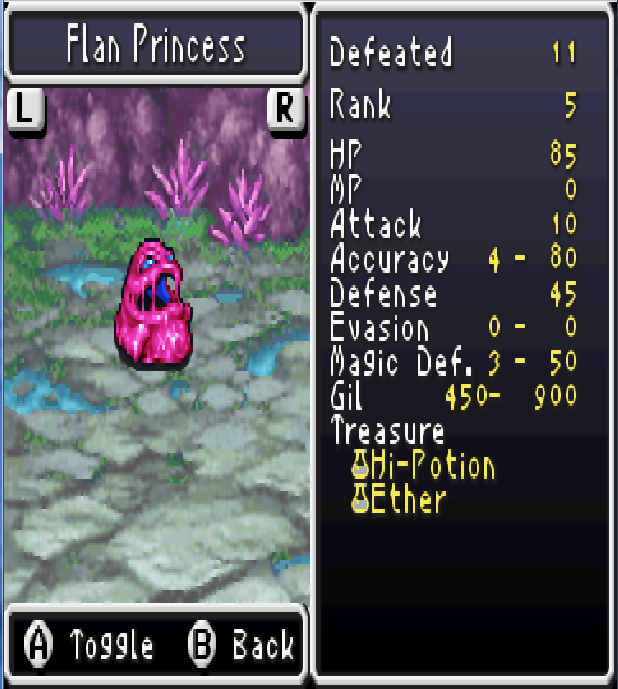 #133: Death Knight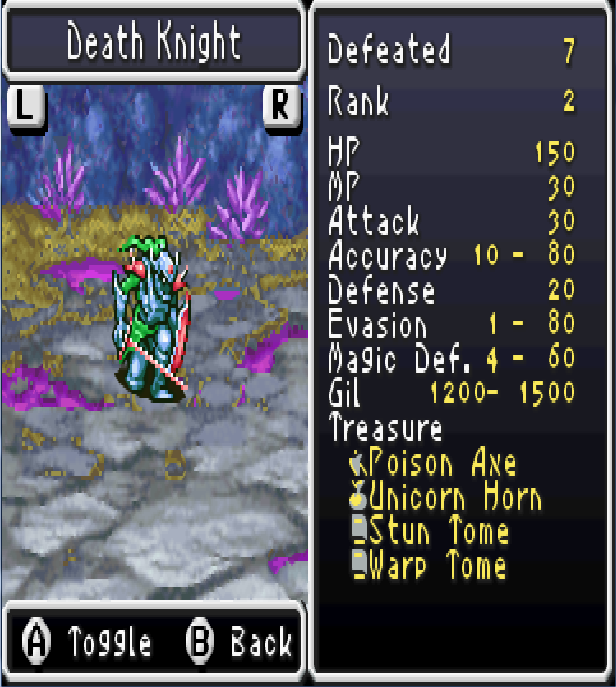 #134: Miss Vamp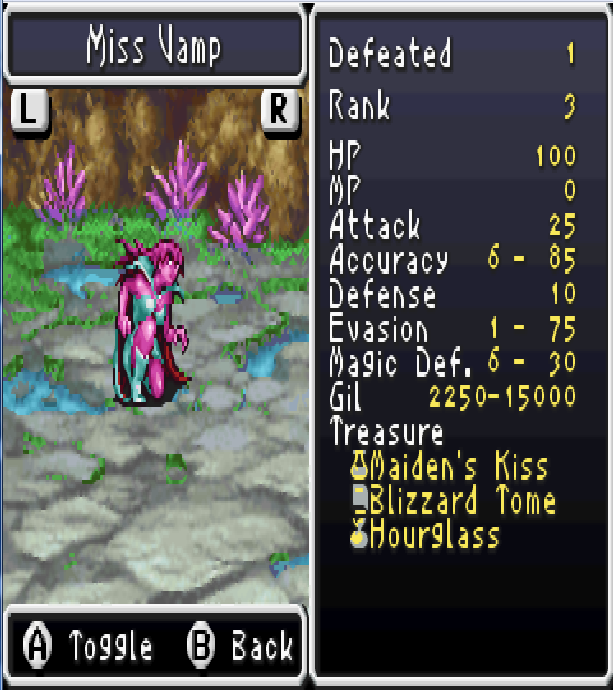 #135: Bigfoot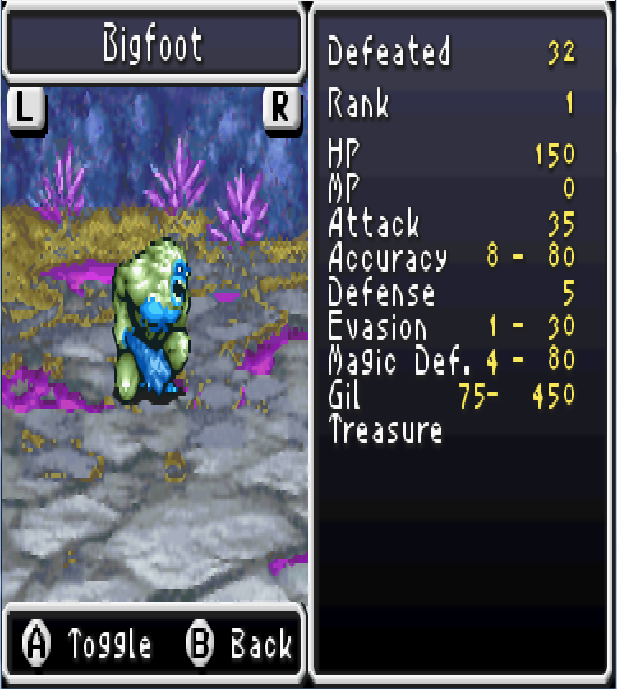 #136: Gil Snapper





#137: Beast Devil





#138: Sea Serpent





#139: Death Horn





#140: Gigas Worm





#141: Glasya Labolas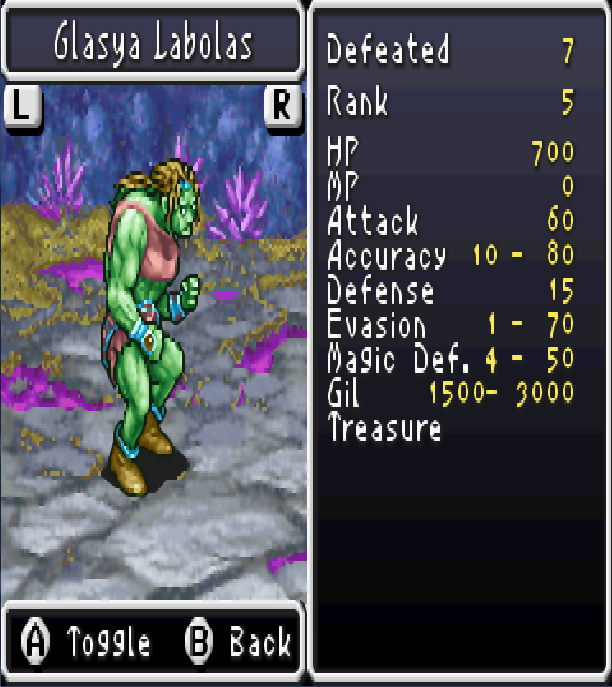 #142: L'il Murderer





#143: Purobolos





#144: Dark Soul





#145: Mother Brain





#146: Bloodbones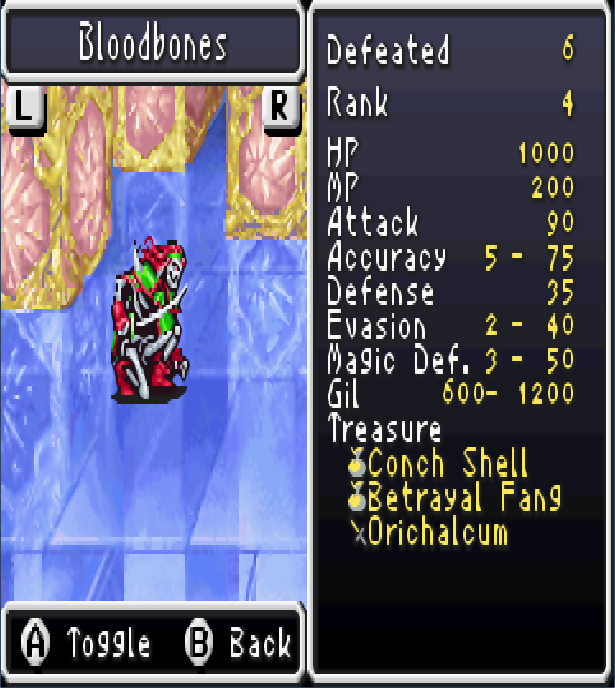 #147: Warg Wolf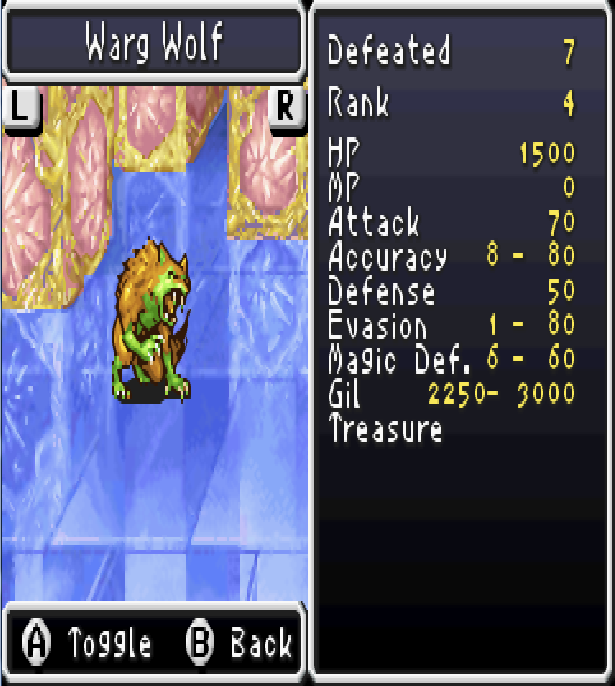 #148: Mini Satana





#149: Dark Magician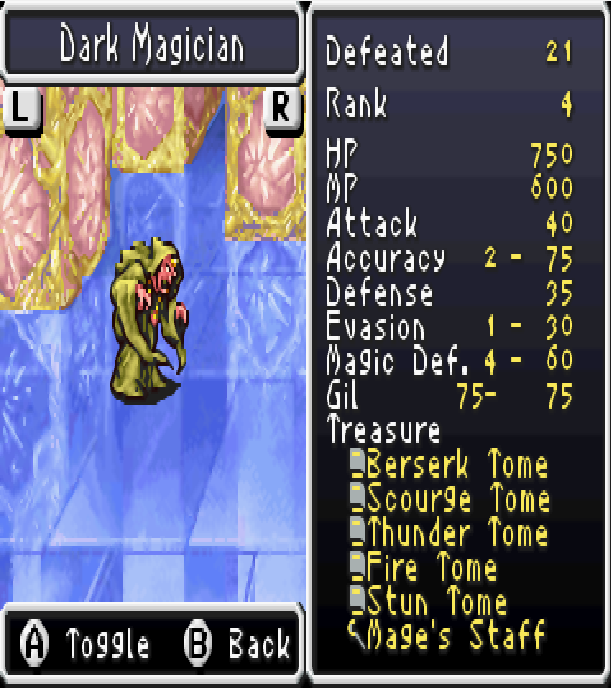 #150: Chimera Brain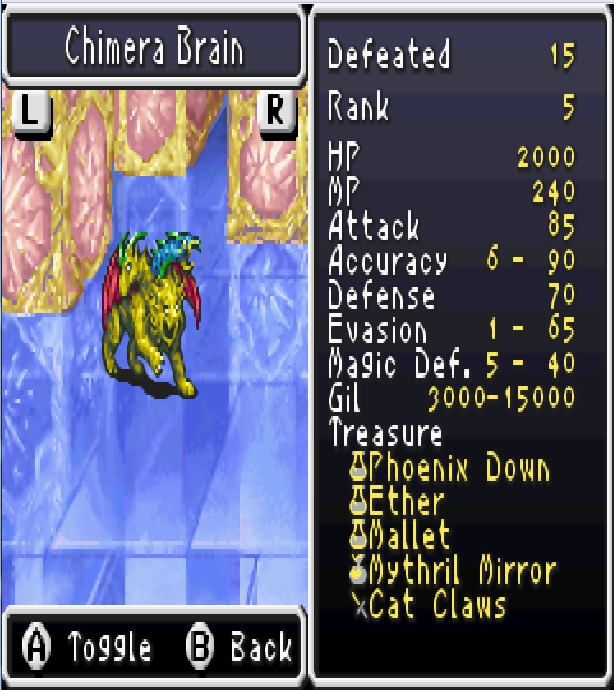 #151: Lamia Matriarch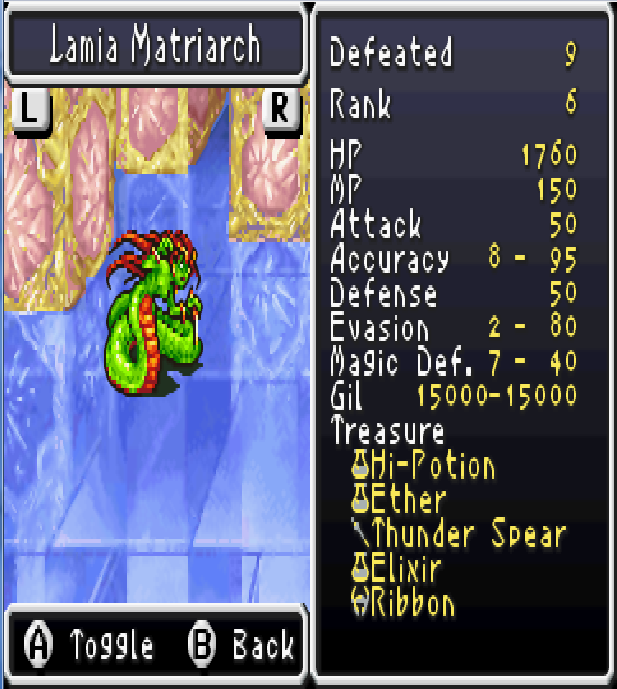 #152: Cait Sith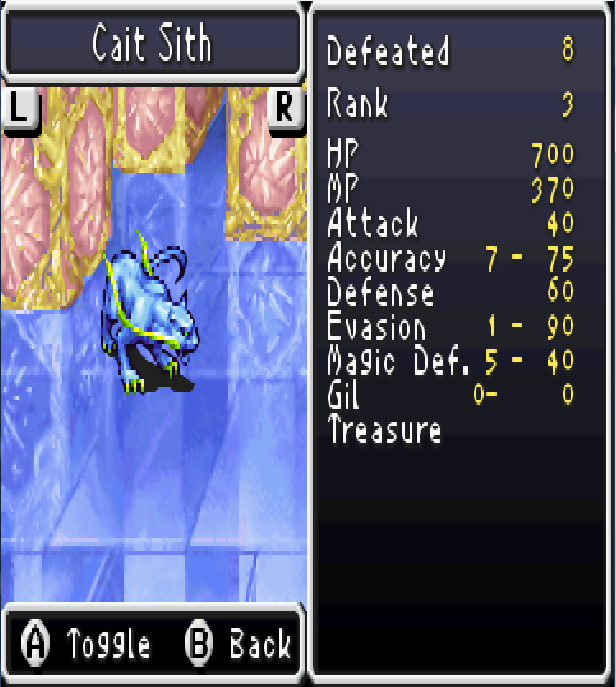 #153: Twin Heads





#154: Catoblepas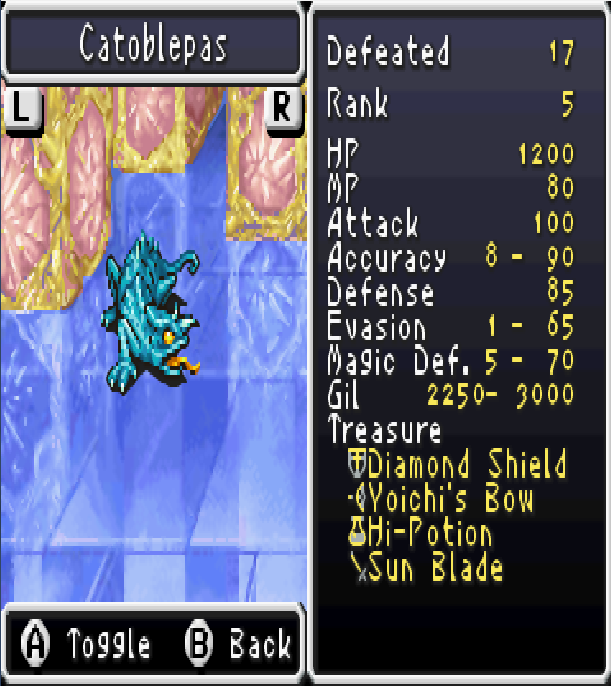 #155: Orukat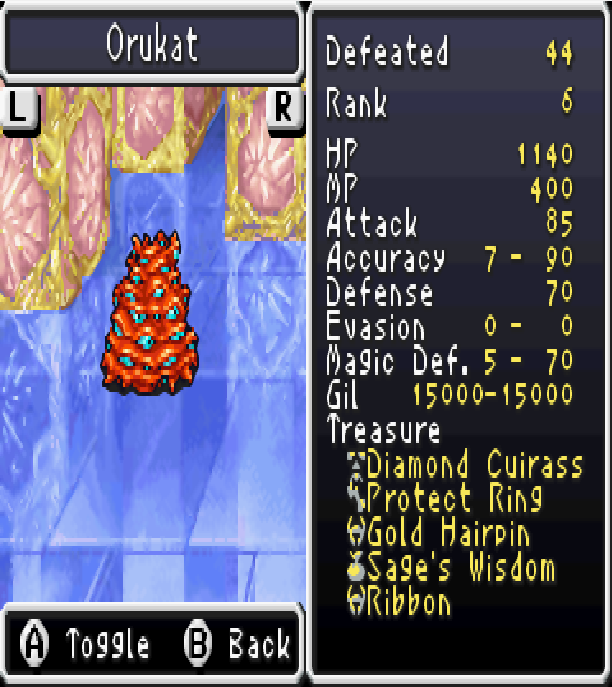 #156: Malboro Menace





#157: Chaos Rider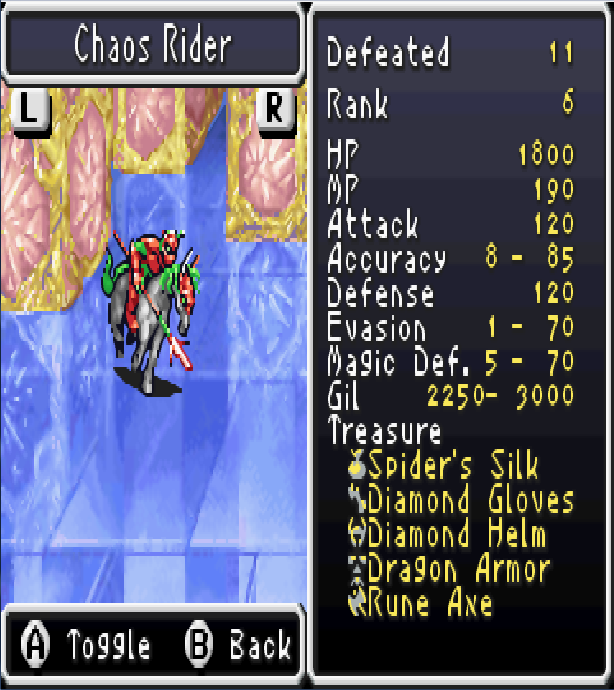 #158: Gold Golem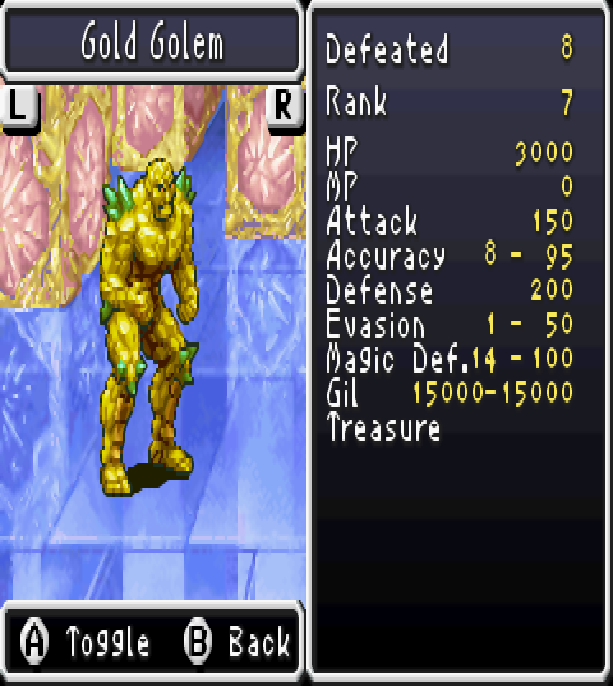 #159: Black Dragon (boss)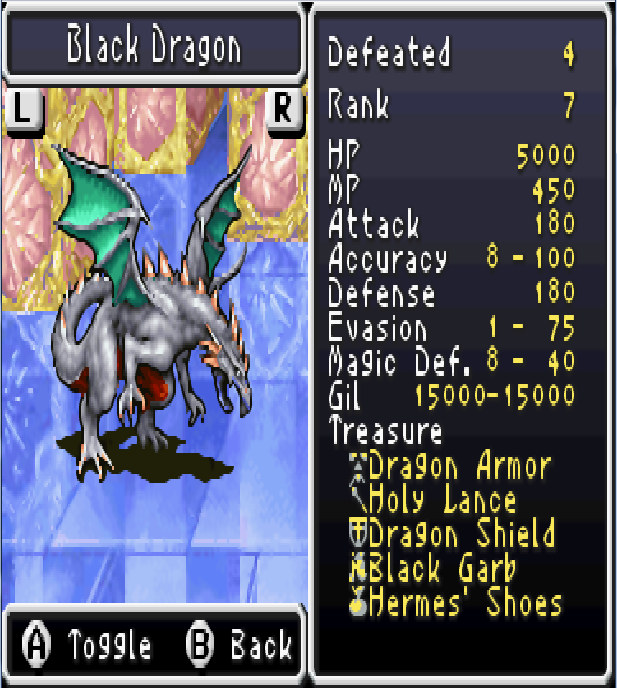 #160: Dark Behemoth





#161: Steel Giant (boss)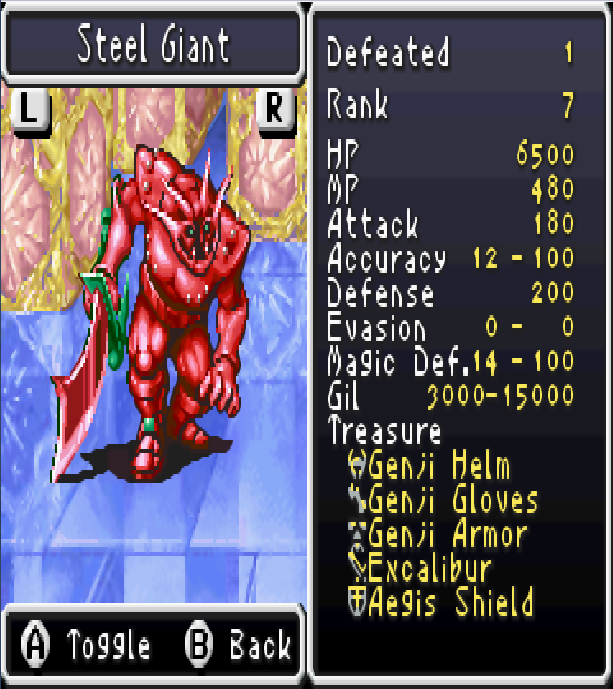 #162: Emperor 3 (boss)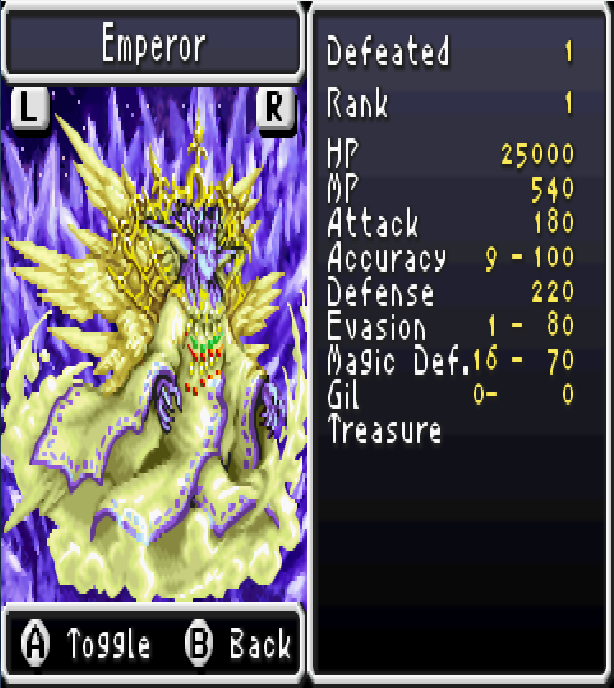 #163: Yamatano Orochi (boss)





#164: Beelzebub Soul (boss)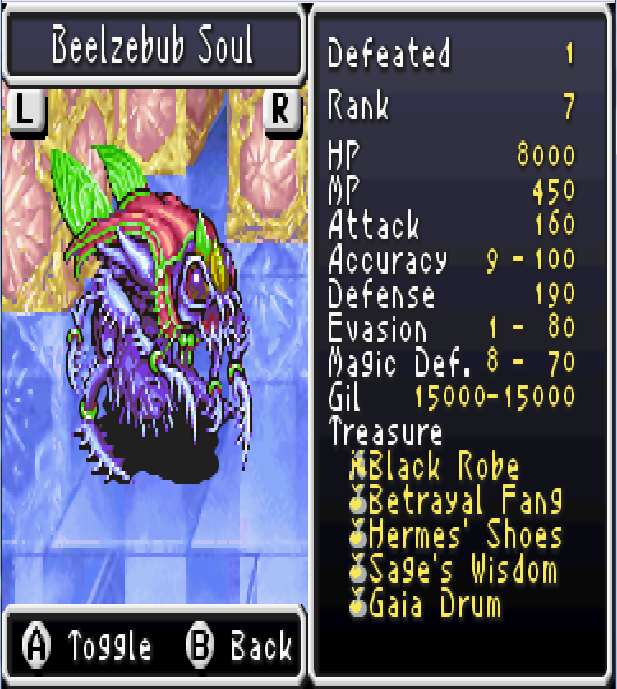 #165: Lucifer (boss)





#166: Black Knight 2 (boss)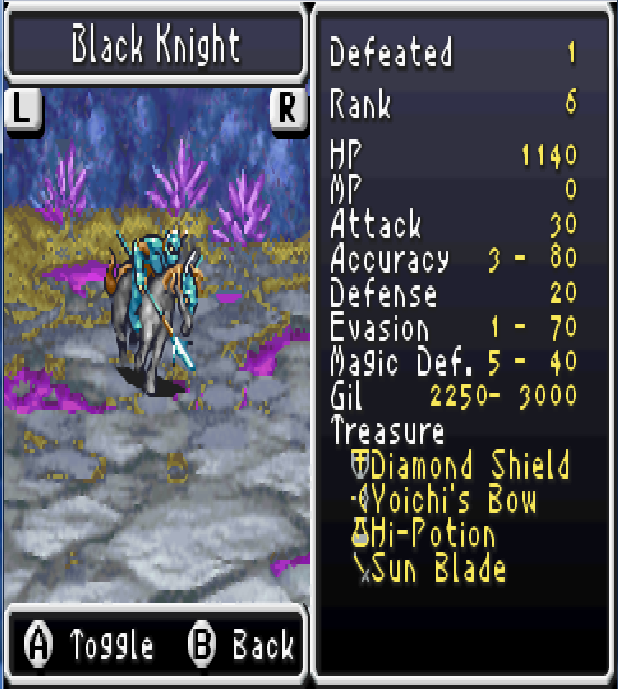 #167: Zombie Borghen 2 (boss)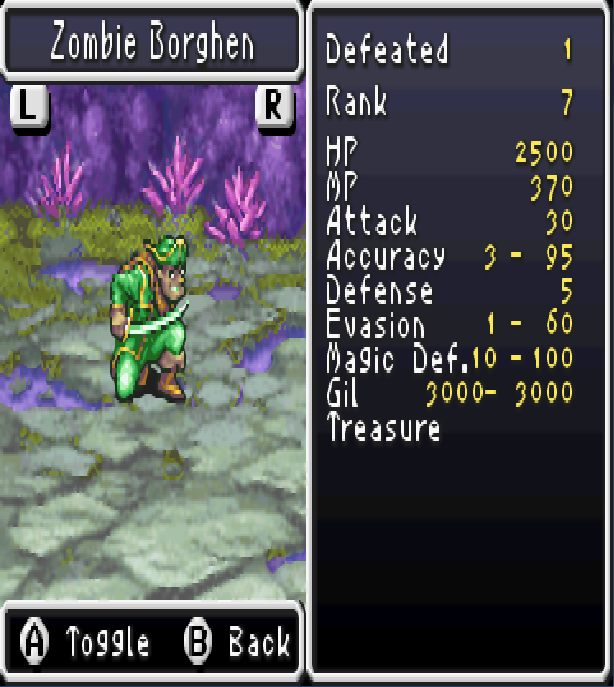 #168: Roundworm 2 (boss)





#169: Ultima Weapon (boss)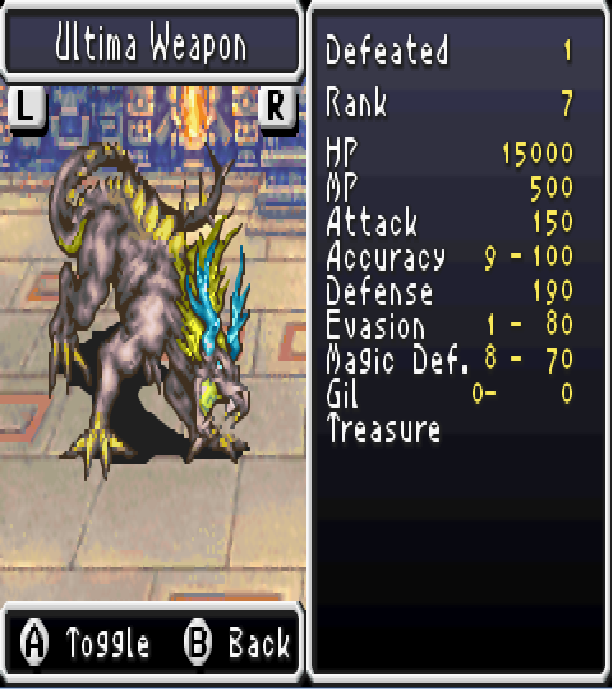 Labels: colors, dawn, death, dragons, dungeons, games, japan, links, lists, liz, maxed-out tags limit, murder, names, ocdl, pictures, ray, snow, twins, walkthroughs