Piccie!
Spoz changed the look of
his blog
over the weekend. I wish I could do something like that... maybe later in the week when I have more time / patience / energy. No, I'm not an HTML expert.. however, my friend
Cerowyn
did link me to an
HTML color page
a while ago. He won't be able to read this, but I thank him nonetheless. (thank goodness that was still in the drop-down cache list on my address bar!)
Just for laughs, I'll include these: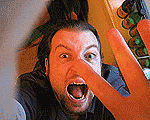 (I wish I'd known how to post up pictures / save them to the computer drive when he had a picture of himself under the influence after nine Cooper's Pale Ales.. that would have been cool. Looked kinda creepy, but not too bad actually.)
His current playlist of 300 Winamp songs.. it changes regularly.
Watching a bit of the Grammy Awards now, too.. although RQ has spoiled some (?) of it for me. Eh well, still good for a lark. :)
Labels: alcoholic drinks, blogs, cerowyn, colors, computer, lists, lj, music, photos, songs, spoz, tv shows