Talking plants, Amos the Dragon, Terry and Arcbolt monster
Karen let me know that she and Lincoln couldn't make it tonight since she had a prior commitment, which is fine. Photobucket seems to be working again, so YAY! Chrystal called me, but I was busy talking to James at the time. I called her cellphone at 3:45, but she was probably busy with setting up the first week of Awana, so I called the church at 5. Uncle Eugene answered (YAY!), and got her for me. Chrystal thanked me for calling her, and said that she probably wouldn't be able to make it tonight, but wanted to take me out next week for my birthday. Since she said that, I said that Monday would probably do as it's my actual birthday. She seemed surprised that I had no plans on that day, but it's cool: the weekend will be eventful, as Chinese Eric said! (tried calling him to let HIM know about things, but Auntie said he'd already left?!) As for what else to do by myself on my actual birthday? I honestly don't know! Sorting through mounds of stuff is probably going to happen...
Stuck in Lifecod, waiting for the Spirit Crown Festival to start!
OH MY GOD, it's a talking plant on the mountain near Monstoru where we can find the Seed of Reasoning to help Amos NOT be a dragon every night! o_O
Amos the Dragon: SURPRISE!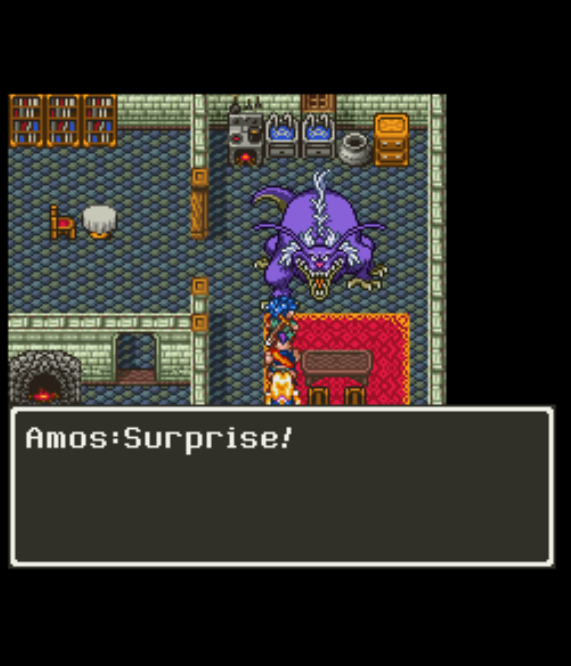 Terry with the Arcbolt monster:
The King at Dhama Shrine: "May all the world know, Ressa the Lesser Demon IS A NOW A Beastmaster!"
Labels: amos, barb, characters, dragons, games, grammar, joey, karen lew, life, pictures