Water Flying Cloth Midenhall / Peeing all over my FOOT! / No Friday potluck!
Christon emailed us to say that Pastor Bob had double-booked himself for Friday, so we're back to our default location of the seniors lounge. In that case, I really don't have any motivation to go to the potluck / movie / sharing night as it won't be a true OUTING. The weekly tradition is far more important, anyway!
As the Prince of Midenhall Castle in DRAGON WARRIOR 2, you must go to Leftwyne to find your cousin the Prince of Cannock. (and later, the Princess of Moonbrooke) You come across this character who is easily scared!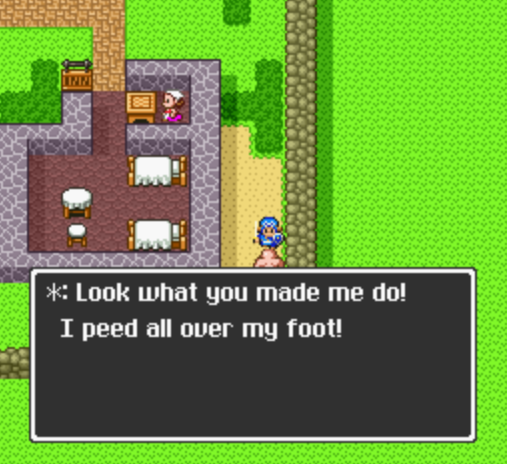 I put in a code to get a Water Flying Cloth from the Midenhall Castle item shop for only 10 GP, and it glitched the graphics. The first item is supposed to be the said cloth, which sells for 53 GP. Yes, I took advantage of making money!
Labels: amusement, bob, characters, christon, dinners, dragons, emails, games, golden, lj, money, movies, pictures, shopping, stanford, water, weird stuff