DEADLY MASQUERADE, Borongo, Kabochi, and TORMENT!
Barry picked me up early for banking and food shopping, but we encountered much traffic on the way to the banks. We discussed crossword clues, Isaac Asimov, I ROBOT, a "swain," Shakespeare, life updates, and more. When I was finally at the store, I saw
Deadly Masquerade: A True Story of Sexual Secrets, Illicit Passion, and Murder
(Donita Woodruff) on sale for $5, so I bought it. Also got blackberry juice, on-sale Sunny D, replacement nail clippers, on-sale Palmolive replacement detergent (pomegranate / lavender / orange), replacement Nottingham bread, soy milk x3 (one in chocolate!), strawberry Olympic Greek yogurt, butter, wildberry juice, bananas, on-sale banana and chocolate oatmeal breakfast bars, and Motts Spicy Clamato. Went home and paid my Internet bill - there will be ANOTHER increase?! HOLY HELL. Now I gotta get ready to go to Deb and Dylan's pretty soon, so I can play with baby Declan!
After they find Papas' Sword and Borongo in the Western Cave, the DRAGON QUEST V party goes back to Kabochi to collect the other half of the 3000G reward. Borongo has been terrorizing the village crops, and this little kid says that he KNOWS the Hero is a jungle boy!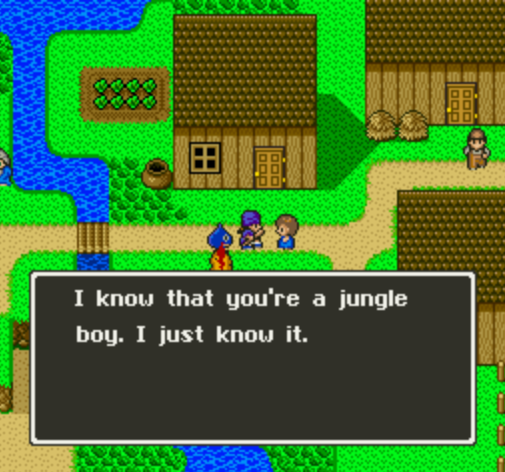 Labels: ayler, books, characters, debbie, dylan, friends, games, golden, internet, kids, matt, maxed-out tags limit, money, murder, new quirky flavors, parties, pictures, sex, shopping, true crime