Editing filtered entries / Crazy pizza crawls / 002 When
After I'd finished editing some filtered entries last night, Eric got on MSN to see whether I was going to church. I said that I'd heard he had some kind of meeting afterwards, and he told me that I'd replied to that Evite. Oh yes, I vaguely remember that now. He also thought I'd gone crazy, or was metamorphosing / disappearing. NO, DAMMIT! Eric said something about eating lunch at the meeting, and then getting together with Jon and Nathan later to do a pizza crawl with Christon. JFC, I'm not made of money! I didn't feel like going, anyway. Turned out that I couldn't sleep, so took melatonin - end result was waking up at 1:45! Whoops, hahaha.
In Oracle Valley, you can open the jail doors with the Magic Key, and this prisoner is grateful: "I've been incarcerated here for over ten years, but this is the first time that anyone has ever spoken to me. As a token of my gratitude, why don't I tell you something good? 002When you go to the casino, the second slot machine on the right in the very last row pays out the best." THE "002" THING IS A GLITCH, I TELL YOU!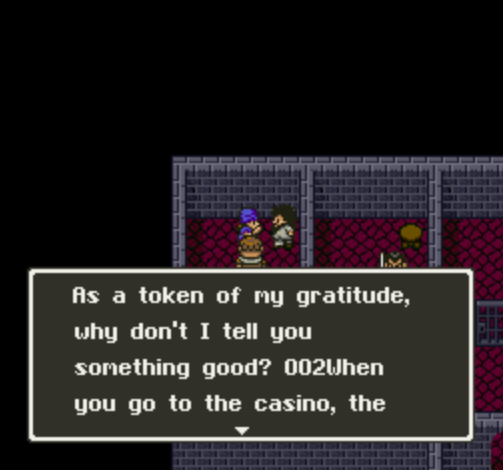 Labels: christon, drugs, dungeons, eric m., evites, fellowship, jon, lj, lunch, meetings, money, msn, nathan, pizza, sleep