Beran Monolith, 60, Prince Linda, Douglas Park plans
Jon let me know that he and Harmony would be at Douglas Park around 5:30 with baby Ayler, which still works if Eric and I are meeting at Langara Station about fifteen minutes later! He wanted to see if we were still picking up Dragon Ball bubble tea, and he'd pay us back for something fruity - half sugar - coconut jelly for Harmony, and something adventurous - half sugar - pearls for himself. INTERESTING!
This guy in the DRAGON WARRIOR II Beran Monolith is talking about the Golden Key, but why is there an extra "60" appended on to the end of his question?! "Where could it be?, 60..."
This wizard is talking about the Moon Fragment inside the treasure chest: "This is the Tower of the Moon. Now it is best to open that treasure box. That is decided, 60..."
If you sleep at the Inn at Beran (the first time), the Prince will lay down and not get up. Use a Leaf of the World Tree on him to restore his failing body, and he'll rejoin the party. The King's messenger at the inn has something to say to you: "Oh, is that you, KendROLANDick? I've been holding a message from the King."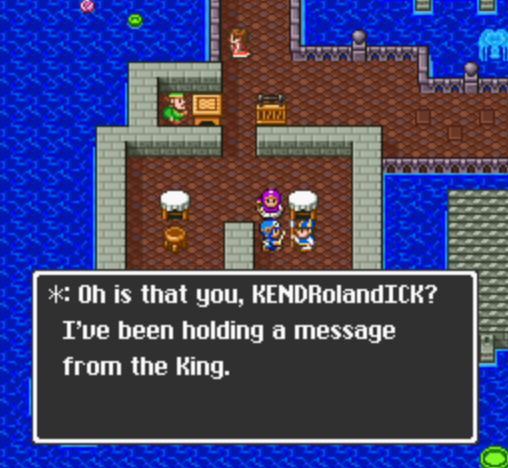 "What has befallen Prince Linda? Perhaps I should inform the King..." The Prince's name is Rolando, and the Princess is named Linda! HAHAHA!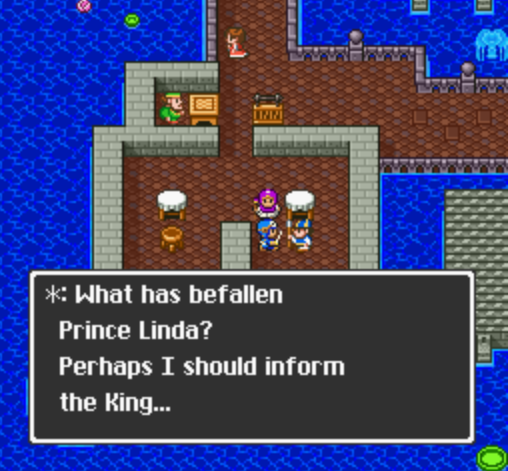 It then goes into a loop, so thank goodness I saved after the Moon Tower events!
Labels: ayler, babies, bubble tea, characters, death, dragon ball, dungeons, games, golden, harmony, hilarity, jon, linda, maxed-out tags limit, messages, names, parties, pictures, sick, sleep