Vegas, sex, Metal Slimes, Jesse, changes
Talked to David S. (omni_sinrilus) on AIM last night about a number of things: Vegas and what might happen there, personal stuff, Color Me Badd's I WANNA SEX YOU UP, Latour's PEOPLE ARE STILL HAVING SEX, making me happy, and more... always interesting! I'm glad I know him! Tomorrow, I'm going to have to buy gum and lotion for my trip, if I can even pack those items. Jesse surprisingly messaged me on Gmail chat, saying that it made him laugh that I hadn't changed my Gmail status in a while. Hey, it's still true as ever: parents SHOULD be banned from using certain "names," dammit! Chatted about life updates / VCEFC's pastoral changes / Camden / Grandma / grandparents / Sunday Dinners / Jon not emailing in the past five years / Harmony and convenience, too. LJ had downtime AGAIN, so I fired off an email to Cindy to see how she is.
Hey, I got four Metal Slimes in the cave west of Kabochi in DRAGON QUEST 5!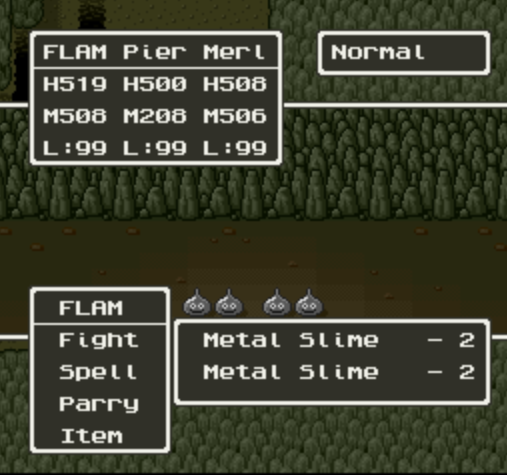 Labels: aim, annoyances, bannings, conversations, david, dragons, games, gmail, grandma, jesse, life, lj, maxed-out tags limit, music, names, parents, pictures, sex, songs, sunday dinners