Bikes as convenience / Yvonne and Mom = awkwardness!
Lillian called me at 9 to say that she was already on her way to the hospital to visit Grandma; no big deal! When I properly got up at 10:30, I called Mom to see what her plans were. I knew that she was planning to visit Grandma with Jon (thanks to Lillian's intelligence), so that didn't surprise me. Since I needed my sanity, I declined lunch at the townhouse. While I was still home, I blocked Chris C. / Jason A. / Amanda C. - it's all good. Went to pick Jon up (talked about Friday's sushi night), and then went to the hospital. Uncle Reuben and Auntie Christine were there, and Grandma seemed better. She drank some milk, and had more energy even if she thought she was at the townhouse! ("Where did Jon go? Someone has to cook rice!")
The doctor gave out some more info about the tumor: size, prognosis, and options. (it's the worst kind of tumor you can get - and it's already 7 x 6 x 6 - she does indeed have less than three months to live!) We told Grandma that Steph gets back tomorrow, and Jon mistakenly told her that Steph was in a meeting! That must be the longest meeting EVER, haha! Yvonne, William, and Andrea showed up later: Jon and I served as buffers. I didn't mind talking to them at all, of course; I asked Andrea whether she'd been to Dairy Queen lately, and she has! Mom and Yvonne seemed civil when discussing care options and such, but it was still awkward. The physiotherapist showed up again to exercise Grandma, who'd been moved to the other bed in the room - at least she can get some sun! When we got back, she was sitting in a wheelchair by the window. After the lards drove me home, I threw away the melted chocolate bar and noted that Nathan W. had added me to Facebook. NICE!
Random NPC in Reindeer: "Man, having a bike would be so convenient." Is this a possible EARTHBOUND reference by Tomato and the other translators? Not that I ever used the bike in that game...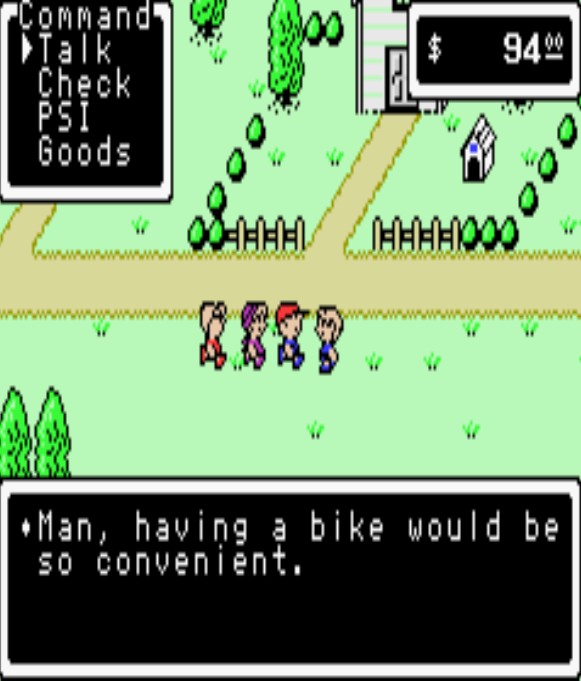 Labels: amanda, andrea, characters, chris, grandma, jason, jon, lunch, meetings, mom, money, nathan, phone calls, plans, sushi