Nine months pregnant; STILL the lightest of us!
Steph and Lisa picked me up in the evening, and we talked to Jon and Harmony about stuff on the way over to the townhouse. We had salmon, summery salad, sushi, spot prawns, Greek orzo pasta, chicken drumsticks, strawberries, coffee, dark chocolate and goji berries, dragonfruit, kiwi, cheese, some beer, and German sausage since a new business in Steveston sells homemade sausage and salami without preservatives, or filler. Talked about pregnancy, the new baby being here VERY soon, Timothy's, Grandma's memory issues, Grandma actually HAVING sushi, translating for Lisa, Harmony's parents calling her separately to see if she's given birth yet (they'll KNOW when the time comes), Chinese Eric having a standing invite to these dinners (which I didn't know about), Fred, Eunice, signing cards for Mom's birthday / Mother's Day / Mom and Dad's anniversary / Dad's birthday, baseball, Chelsea and Transcendental Meditation in Iowa (she's coming back next week!), Kate's wedding, Vegas, TIME magazine's cover of a four-year-old breastfeeding, the Blue Jays / Vladimir Guerrero.
Then we walked to Timothy's for frozen yogurt - BLACKBERRY FOR THE WIN. We also weighed ourselves in Steveston since we saw an outdoor scale; Harmony is STILL the lightest of us even at nine months pregnant! We figured that the moral of the story tonight was to escape from doing the dishes by walking out of the house to get a treat, hahaha! (Dad did them all) Discussed hilarious Mom stories, inducing labor by jumping around (NOT a good idea!), teasing me about Eric H., new businesses in Steveston, the Tapenade Bistro, the CRAB KING restaurant, Pajo's at Steveston, the Original Sausage House, the Sweet Spot, Cora's, Bellingham today, walking a lot, groin issues (I don't want to know, little brother!), piggyback rides, Gudrun, my saving money to spend and pay back the parents, budgeting, sports, nephews, and more. Walked back to the townhouse and discussed Captain Morgan's spiced rum, Mom's "firecracker" almonds / walnuts, Billy / Tony / Eddie / Stella / age gaps, Eunice, Grandma not going to bed yet at 9:30, one-pound oranges, leftovers, baby toys, vans, and more. Got home after 10, and realized I forgot my purse at the lards' place; Steph called to tell me about that right when I did. At least Mom can drop it off tomorrow morning before she goes to work!
Lisa and Jon with beer before eating: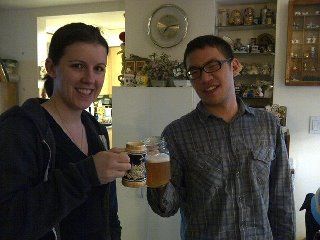 Walking off a bit of dinner so we can get frozen yogurt at Timothy's!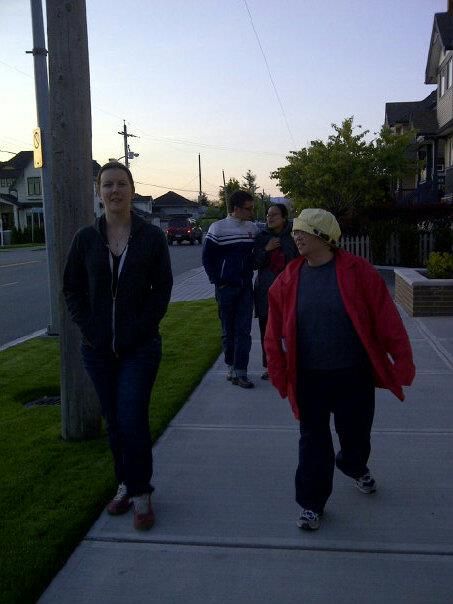 Mom saw this notebook and bandages with skulls on them in Bellingham today, and thought I'd like them because I'm evil... o_O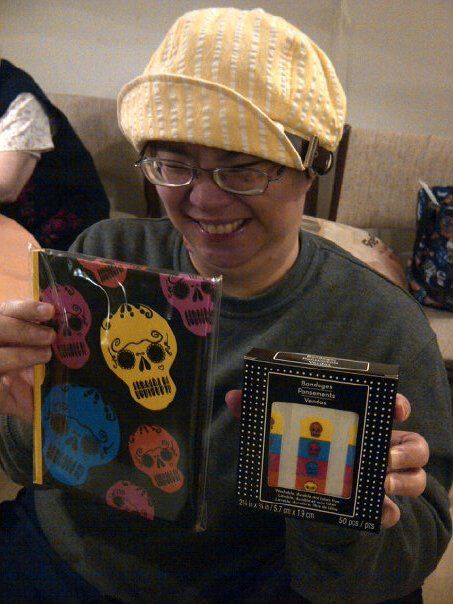 Labels: alcoholic drinks, billy, dinners, eddie, eric h., eunice, family, grandma, harmony, jon, lisa, maxed-out tags limit, mom, parents, photos, salmon, stella, steph, sushi, tony